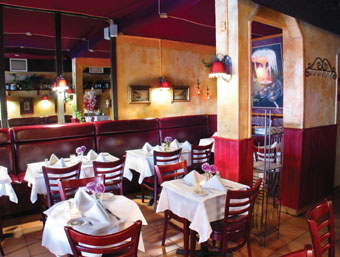 Caffe Buon Gusto
236 East 77th St.
(bet. 2nd & 3rd)

212-535-6884



Soup
Seafood Soup - lobster, calamari, mussels, clams & shrimp

Antipasti
Grilled Calamari with Aiolo Sauce - creamy mustard & garlic sauce
Crab Cake - with horseradish mustard sauce & mesculin

Insalate
Beet & Goat Cheese - on a bed of mesculin

Special Pasta
Homemade Ravioli Crab Meat - with shrimp, spinach, chopped tomato in a cognac cream sauce
Linguini Lobster - lobster with pancetta
in a carbonara cream sauce
Homemade Black Linguini - with calamari & radicchio in a marinara sauce

Chicken or Veal
Buon Gusto - topped with mozzarella, prosciutto, mushroom & sauteed in marsala wine
Porcini - sauteed in porcini mushroom & cream sauce
Eggplant Rolatina - stuffed with ricotta, mozzarella, & mushrooms in a tomato sauce

Fish
Mahi Mahi - pan seared over sauteed spinach, tomato virgin olive oil & garlic
Red Snapper Livornese - sauteed with chopped tomato, black olives & capers



Cuisine: Traditional Italian
Avg. Check: $25 - $30
Attire: Casual Neat

Caffe Buon Gusto is a cozy, intimate, candle-lit, authentic Italian restaurant offering a variety of classic home cooked dishes. These include an array of mix and match items, where you can choose any sauce you like with your pasta, chicken, veal or fresh fish. Changing every day, their specials include delicious home-made ravioli, lasagna and fresh seafood. Even a simple chicken dish turns into a gourmet meal when prepared with strawberries, apples and a blackberry sauce.

The varied wine list, including 12 wines by the glass, is made up of labels from all over the world including Italy, France, California and Spain.

Caffe Buon Gusto takes the old Latin proverb "dulcis in fundo"' meaning "the sweet comes in the end to heart". The desserts are made fresh daily, including the Tiramisu which is like none other, and the very popular chocolate almond cake and panna cotta.

Caffe Buon Gusto attributes its 13 years of success to the winning combination of friendly, warm service and fresh food at reasonable prices. The owners are always on hand to accommodate any requests you may have and make you feel as if you are dining in your
own home.

If you are looking to be transported to a charming, intimate restaurant in Italy, Caffe Buon Gusto is sure to please.
MID-WEEK DINNER SPECIALS; WINE TASTINGS; TAKE OUT; PRIVATE PARTIES; ON AND OFF PREMISE CATERING; OUTDOOR DINING

RESERVATIONS
Suggested

CREDIT CARDS
Amex

HOURS
Lunch
7 Days 12 - 3:30

Dinner
7 Days 4 - 11