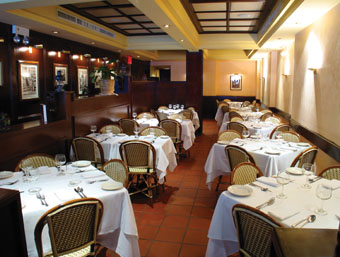 Via Oreto
1121 1st Ave.
(bet. 61st & 62nd)

212-308-0828



Antipasto
Peperoni Ripieni - peppers filled with rice, choped meat, bread crumbs & garlic
Mozzarella Fresca - homemade mozzarella with vegetables
Cozze in Brodetto - mussles in light tomato garlic sauce

Pasta
Bucatini chi Sarde - fat spaghetti with fresh sardines, fennel, pine nuts & baby raisins
Linguine con Vongole - linguine with white clam sauce
Rigatoni Mama - ziti with eggplant, peas,
fresh tomato & basil
Ravioli di Casa - homemade pasta stuffed
with your choice of porcini, ricotta, or seafood

Secondi Piatti
Pollo Mama - breast of chicken sauteed
with onions, tomato, sprinkled with Marsala
then baked with eggplant
Pollo Scarpariello - cut into pieces, baked with olive oil, lemon, garlic, oregano & served dry
Scampi Oreto - shrimps with arugula & garlic sauce

Griglia
Lombatine di Vitello - veal chop grilled
with rosemary & mushrooms
Costolette di Agnello - lamb chops grilled with rosemary



Cuisine: Southern Italian
Avg. Check: $35 - $45
Attire: Casual Neat

In order to find the REAL Mama's Meatballs, there is no need to venture South of the 59th Street Bridge. For the last 14 years, Mama (as she is known to both regulars and newcomers) and her son Anthony have welcomed guests into their home at Via Oreto. This family oriented Southern Italian is elegantly decorated with wood paneling and adorned with well-lit black and white photos. The ceiling, molded with the same dark heartwood, adds to the warmth that the chef-owners provide for their patrons. To quote the menu, "Via Oreto is one of the oldest streets in Palermo, Sicily. Mama was born there, and so was the taste of our genuine cuisine."

"Everybody knows everybody", Mama will tell you when you ask her about her clientele. "People come back over and over again. Once you are in, you keep coming back." The very steady body of customers know that they will be eating food created from the freshest ingredients available. Presented the Zagats Award of Distinction, Via Oreto is proud to offer many signature dishes. Pollo Mama - boneless chicken, eggplant, marsala wine and tomato sauce - was created by Anthony in honor of Mama. The chicken scarpariello - cut into pieces, baked with olive oil, lemon, garlic and oregano - is a dish that everybody has come to love. On Sunday nights, Mama is in the kitchen personally cooking her famous meatballs for the crowds of families that end their weekends at Via Oreto.

Experience for yourself why Upper East Siders keep coming back to this reliable mainstay time and time again - and be sure to say hello to Mama.
TAKE OUT; PRIVATE PARTIES; PRIVATE ROOM; ON AND OFF PREMISE CATERING; OUTDOOOR DINING; HANDICAP ACCESSIBLE

RESERVATIONS
Suggested

CREDIT CARDS
Amex, Visa, Mastercard

HOURS
Lunch
Mon. - Fri. 12 - 3

Dinner
Sun. - Thurs. 5 - 11
Fri. & Sat. 5 - 11:30