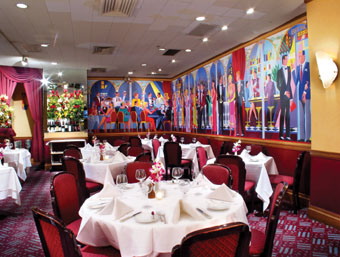 Bruno
240 East 58th St.
(bet. 2nd & 3rd)

212-688-4190
www.brunonyc.com



Antipasti
Prosciutto di Parma Bruschetta con Conserva di Fichi
Thin Sliced Imported Prosciutto di Parma with Fig Jam over Crouton

Salmone Marinato con Insalata di Finocchi
Sliced House Marinated Citrus Salmon with Fennel Orange Salad

Antipasto Caldo della Casa
Baked Shrimp, Clams Casino, Eggplant Rollatini,
Stuffed Mushrooms, Fried Calamari

Primi
Bucatini con Scampi allo di Scoglio e Zucchine
Bucatini with Rock Shrimp & Zucchini

Fettuncine con Ragu' di Funghi
Fresh Fettucine with Mushroom Ragu'

Pesce
Filletto di Salmone con Lentiche e Verdure Brasato
Filet of Salmon over Braised Fall Vegetables,
Lentils with Fresh Grated Horseradish

Agnello con Caponata e Salsa Verde
Rack of Lamb with Sicilian Vegetable Salad & Mint Pesto

Tonno alla Griglia, Broccoli Rabe, e Pomodori Arrosto
Grilled Marinated Tuna with Broccoli Rabe & Oven Roast Tomato

Spigola in Padella con Ratatouille
Pan Seared Striped Bass with Braised Vegetables & Herbs

Carni
Costoletta di Vitello alla Grigla
Grilled Veal Chop with Wild Mushrooms, Sauteed Escarole & Beans

Vitello alla Milanese
Classic Pan Fried Breaded Veal Chop with Arugula Salad

Pollo al Limone con Spinaci
Lemon Chicken with Sautéed Spinach, Capers, Olives & Roast Lemon



Cuisine: Northern Italian
Avg. Check: $35 - $40
Attire: Casual Neat

Ristorante Bruno is home to one of the best Northern Italian eateries in New York City. Owner Bruno Selimaj's establishment has been riding high since its founding in 1978 - an eternity by New York restaurant standards. One of the more welcoming hosts in the business, Zagat participants profess that if you "come more than once owner Bruno will know your name."

The dining room is decorated in an Art Deco style while the stunning teak wood bar is flanked by marble floors. A Gian-Carlo Impiglia mural is casted around the perimiter of the restaurant, adding to the themed decor.

Among the specialties of the house are grilled Veal Chop with wild mushrooms, sauteed escarole and beans, Branzino (Mediterranean Sea Bass) grilled with a touch of olive oil and complimented by seasonal vegetables, Rack of Lamb, and Bruno's signature Osso Bucco Milanese. If you have the will power to save some room for dessert, Bruno features an extensive homemade dessert menu. There is live entertainment at the piano bar every Wednesday to Saturday, from 9pm-1am. "Stay until he begins his show", recommend regulars There are several recently renovated private rooms that accommodate parties from 6 to 150 people, where guests can enjoy the same wonderful service, as they are looked after by the attentive, black tie, professional wait staff.

An extensive wine list features selections from Italy, California, and France, with many selections available by the glass each evening. Bruno is a unique adventure for all those that experience the upscale and sophisticated food.
PRIVATE PARTIES; PRIVATE ROOMS; ON PREMISE CATERING; LIVE PIANO MUSIC; HANDICAP ACCESSIBLE

RESERVATIONS
Suggested

CREDIT CARDS
Amex, Visa, Mastercard, Diner's Club, Discover

HOURS
Lunch
Mon. - Fri. 12 - 3

Dinner
Mon. - Sat. 5 - 11