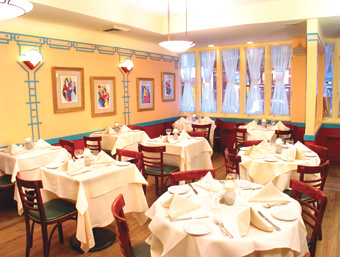 Triangolo
345 East 83rd St.
(bet. 1st & 2nd)

212-472-4488



Antipasti
Involtini di Radicchio - braised radicchio filled with goat cheese
Fegatini di Pollo - sauteed chicken liver, endive, radicchio, balsamic
Insalata Riviera - French beans, shrimps, hearts of palm, plum tomato, olive oil & lemon
Insalata di Carciofi - artichokes, arugola, mushrooms, peppers & parmigiano

Pasta
Rotolo di Pasta Montanara - rolled pasta filled with spinach, porcini, parmigiano
Tagliolini Frutti di Mare - fresh black pasta with fresh seafood, marinara sauce
Caserecci alla Norma - twisted pasta, sundried tomatoes, sausages, light cream sauce
Gnocchetti Sardi - porcini mushroom dumplings with prosciutto, piselli in vodka sauce

Secondi
Pollo Cardinale - chicken breast with portobello cup, roasted peppers, melted fontina cheese
Vitello Milanese Grissini - sauteed veal cutlet, breaded with grissini
Scaloppine alle Melanzane - Veal with eggplant, zucchini and tomato



Cuisine: Northern & Southern Italian
Avg. Check: $30-$35
Attire: Casual Neat

Art-deco inspired and complete with it's namesake theme, Triangolo Restaurant has been attracting locals with it's friendly neighborhood service for many years. Owners Renato Miocic and Francesco Brunetti inject their personal warmth into their establishment, which is nestled into a quiet tree-lined 83rd street.

Every night, each guest is welcomed by Renato and led to their table in a dining room that is decorated with vibrant colors, modern ceiling lamps, and certain "triangular" patterns placed discreetly throughout the restaurant. Lace curtains adorn the windows, creating a serene environment in which diners are able to escape the bustle of mid-town Manhattan.

In the kitchen, Chef Brunetti is hard at work preparing many of his original dishes that he brought with him from Italy. Trained classically in his home country, he is proud to offer many nightly specials, as well as homemade pastas made right on the premises. Rotolo di Pasta Montanara - rolled pasta filled with spinach, porcini, and parmigiano - is one of the signature dished that have kept regulars returning time and time again. Fresh salmon, sauteed with artichokes and cherry tomatoes, is prepared in a white wine sauce - a "must have" when dining at Triangolo. With prices that are affordable to most, dining here is a winning experience for everyone.

Zagat readers tend to agree, stating that this popular eatery is "a notch above in food and service, and a notch below in price." Come see for yourself what others have known for years...
PRIVATE PARTIES; OFF PREMISE CATERING; WINE TASTINGS; OUTDOOR DINING; DELIVERY; HANDICAP ACCESSIBLE

RESERVATIONS
Suggested

CREDIT CARDS
Cash Only

HOURS
Dinner
Mon.-Sat. 5-12
Sun. 3-10:30