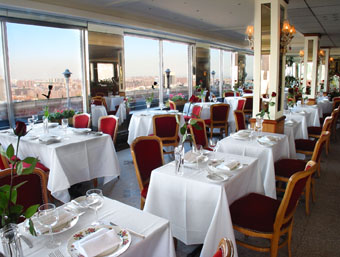 Terrace in the Sky
400 W119th St.
(bet. Morningside & Amst.)
www.terraceinthesky.com



Appetizers
Tartar of Bluefin Tuna - Avocado, Topiko, Garlic Croutons, Frissee and Sesame Vinaigrette
Pan Seared Foie Gras - Roasted Figs, Champagne Grapes, and Balsamic Reduction
Baby Arugula and Wild Mushroom Salad - Proscuitto, Roasted Peppers, Shaved Parmesan and Aged Balsamic

Entrees
Natural Grain Fed Sirloin - Braised Short Rib Fondue, Pearl Onions, and Gruyere Potato Puree
Duo of Lamb - Stuffed Loin Double Chop, Parsnip Puree, Barigoule Emulsion
Pan Roasted Salmon - Artichokes, Fennel, Black Trumpets & Anise Froth
Roasted Nature Veal Chop - Black Truffle, Local Baby Vegetables in a black truffle infused veal reduction

Desserts
Apple Tart Tatin - Caramelized Apple, Puff Pastry, and Vanilla Ice Cream
Artisan Cheese Plate(a tasting of three with fruit)
Pumpkin Tasting - Creme Brulee, Cheesecake, Pie, Scone with Chutney



Cuisine: French-Mediterranean
Avg. Check: $40-$45
Attire: Jackets Optional

Tucked away in a penthouse located atop Columbia University's Butler Hall is Terrace in the Sky. This elegant French-Mediterranean restaurant provides breathtaking views of the Manhattan skyline.

Dining at Terrace in the Sky is a magnificent experience. You will feel special from the moment you step into this charming restaurant. The romantic setting lifts diners high above the turmoil of the world below, as the panoramic vista of the stars and the city lights creates a fantasy atmosphere for your dining pleasure.

The original Terrace restaurant was founded 30 years ago by Dusan Bernic. His vision and culinary talent in preparing exceptionally fine foods, served in an outstanding setting, established the benchmark of the eatery and continues today.

Executive Chef Jason Potanovich's culinary expertise in creating superior cuisine is as much about presentation as it is about preparation. A commitment is made to each guest that their dining experience at Terrace in the Sky will be special and memorable.

The picturesque views, star service and unique culinary offerings make this restaurant one of the most popular choices for weddings, fund raisers, and other celebrations. Terrace is also open for Sunday brunch, creating the perfect atmosphere in which to celebrate the morning after your wedding, a family reunion and catching up with old friends.

The atmosphere is sophisticated and delightful. A single red rose on each table, a flickering candlelight, and soft music ensure a lasting impression. There is no place like it in New York.
PRIVATE PARTIES; PRIVATE ROOMS; OUTDOOR ROOF-DECK; CITY VIEWS; CATERING; PRICED FIXED MENU

RESERVATIONS
Suggested

CREDIT CARDS
Amex, MasterCard, Visa, Diners Club, Travelers Checks

HOURS
Lunch
Tues.-Fri.
12-2:30

Dinner
Tues.-Sat.
5:30-11:30

Sunday Brunch