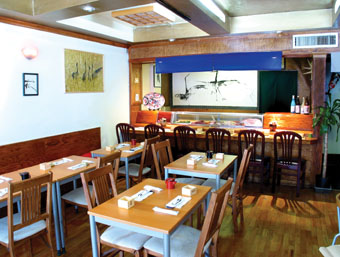 Tsuki
1410 1st Ave.
(bet. 74th & 75th)

212-517-6860



Special Appetizers
3 Color Tartar - chopped tuna, salmon,
& yellowtail with special sauces
Salmon Tsuki Carrot Sauce - fresh salmon, ikura, & avacado with carrot sauce
Lobster Motoyaki - broiled lobster
with special miso sauce
Sushi Pizza - assorted sashimi with special sauce on a broiled sushi rice
Spicy Sushi Pizza - with jalapeno tomato
onion sauce

Sushi Entrees
Omakase - chef's daily special sushi course

Special Rolls
Tsuki Roll - spicy tuna, yellowtail
or salmon inside & outside
Volcano Roll - spicy tuna, yellowtail,
or salmon with cruch & extra spicy sauce

Special Sushi A la Carte
Scallop - with seaweed sauce
Salmon - with carrot sauce
Toro Taku - chopped toro & pickles



Cuisine: Japanese
Avg. Check: $35 - $40
Attire: Casual

The New York Times named Tsuki a top pick for Sushi, calling it an "affordable neighborhood place several cuts above the ordinary". The owners, Kazutoshi and Michiko Maeda, welcome visitors for dinner seven days a week. Kazutoshi is a veteran sushi chef who, over the last 20 years, has been involved in countless other New York based Japanese restaurants. He brings his innovative style to this new location, which has been open for the better part of two years.

Tsuki is proud to offer both authentic and modern dishes. Every evening, diners are able to choose from an additional five or six special items imported directly from Japan. One of the more creative items on the menu is the sushi pizza, which is marinated with special sauce and involves a mix of tuna, yellowtail, salmon and avocado. The Volcano Roll, one of the more popular sushi selections, can be prepared with two kinds of spicy sauce. Lobster Motoyaki in miso sauce satisfies traditionalists looking for a taste closer to what is served in the Tokyo eateries. Fresh eel is shipped from Japan on a regular basis as well. The Sake menu at Tsuki is composed of 30-40 special Japanese assortments, and is altered monthly to provide connoisseurs with a varied selection.

Very few Sushi restaurants can offer the best of both worlds, whether you are a conventionalist or a modernist. Tsuki happens to support the perfect mix.
TASTING DINNERS; FIXED PRICE DINNERS; TAKE OUT; PRIVATE PARTIES; OFF PREMISE CATERING; HANDICAP ACCESSIBLE

RESERVATIONS
Suggested

CREDIT CARDS
Amex

HOURS
Dinner
7 Days
5:30 - 11