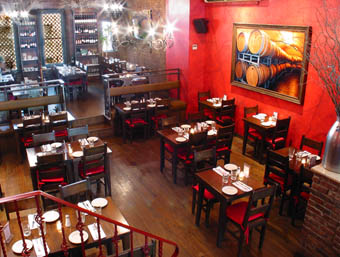 Cascina Ristorante
647 9th Avenue
(bet. 45th & 46th)

212-245-4422
www.cascina.com



ANTIPASTI
CROSTONI DI POLENTA CON FUNGHI E GORGONZOLA
Crispy polenta topped with mushrooms and Gorganzola cheese
SALSICCIA ALLA GRIGLIA
Grilled sausages with broccoli rabe

PASTA
RIGATONI ALLE MELANZANE E MOZZARELLA
Rigatoni with eggplant, mozzarella and tomato sauce
PAPPARDELLE AL SUGO D'ANTIRA E PROCINO
Large homemade noodles with duck and porcini mushroom sauce
CANNELLONI DI VITELLO, RUCOLA E POMODORI ARROSTITI
Cannelloni stuffed with veal, arugula, ricotta and roasted tomatoes

CARNE E PESCE
MILANESE FARCITA
Chicken roll stuffed with spinach, mozzarella and prosciutto with mashed potatoes
SALSICCIA LUGANEGA IN UMIDO CON FAGIOLI BORLOTTI
Slowly roasted Italian sweet sausage with Tuscan beans, herbs and tomatoes
TRANCIA DI SALMONE ALLA GRIGLIA CON SALSA AL LIMONE
Grilled Salmon steak with lemon sauce and sautéed broccoli rabe

PIZZE
A VARIETY OF HOMEMADE PIZZAS
Including Napoletana with tomato, mozzarella, anchovies and capers; Margherita with tomato and mozzarella; Di Parma with tomato, mozzarella, arugula and prosciutto; Quattro Stagioni with tomato, mozzarella, mushrooms, ham, olives and artichokes; Cascina with mozzarella, fontina, parmesan and gorgonzola cheeses

DESSERTS
TIRAMI-SU CASCINA
APPLE TART WITH VANILLA ICE CREAM
DAILY HOMEMADE SELECTIONS



Cuisine: Italian
Avg. Check: $25-$30
Attire: Casual Neat

True Italian hospitality is served along with Cascina's traditional country style-food. Simple, yet abundant in flavor, the food is made with the freshest ingredients available and with authentic Italian preparation. Combined with the cozy atmosphere, Cascina Ristorante provides the perfect peaceful retreat from it's hectic Hell's kitchen neighborhood.

The decor at Cascina is warm and inviting. Guests dine at heavy wooden tables surrounded by lush red-colored walls and large photos of the Cascina Oroslina vineyard in Moncalvo-Piemonte, Italy, which supplies its namesake restaurant with most of the wine it serves. The focal point of the dining room is an authentic brick oven used in preparing the restaurants signature pizzas, fish, and meat dishes. The upstairs private dining rooms continue the cozy atmosphere and feature a wall-sized wine rack showcasing a selection of Cascina's wine collection. With over 40 special selections of wine and Champagne, there is lots to chose from.

Owner Emilio Barletta presents guests with a wide array of classic Italian dishes. Involtino di Melanzane - eggplant stuffed with prosciutto "cotto" and mozzarella - is baked with tomato sauce. The lighter Pizza Napoletana is Cascina's classic Napoletana pizza, and is made with imported Scillian anchovies, capers, oregano, tomato sauce and mozzarella.

Cascina's brick oven continues to turn out toothsome thin-crust pizzas topped with imported cheeses and meats, fresh rolls and foccaccia, as well Cascina's famous entrée, the oven-baked Dorado.

Cascina Ristorante is the perfect destination for a private party, dinner date, or pre-theater meal.
PRIVATE PARTIES; PRIVATE ROOM; PRICED FIXED DINNERS; PRE-THEATER MENU; OUTDOOR DINING; HANDICAP ACCESSIBLE

RESERVATIONS
Recommended

CREDIT CARDS
Amex, Visa, Mastercard, Diners Club, Discover

HOURS
Lunch
Noon-3

Dinner
5-Midnight