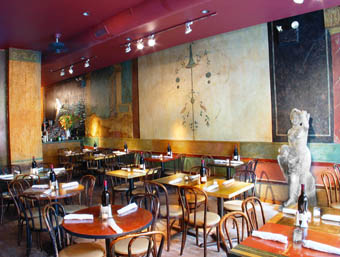 Peter's
182 Columbus Ave.
(bet. 68th & 69th)

212-877-4747



Appetizers
Maryland Crabcake - with old bay sauce
Mussels Jamaica - in a spicy Jamacian tomato sauce
Oriental Grilled Shrimp - wrapped in bacon & water chestnuts,served in a sesame ginger sauce
Escargots - with sauteed mushrooms in a brandy cream sauce with garlic toast

Salads
Pompeii Salad - chickory, endive, radicchio, seet garlic, bacon, & bleu cheese, with a mustard vinaigrette
Gulfstream Salad - romain lettuce, goat cheese, olives, pimento & pine nuts with a balsamic & mustard vinaigrette

Entrees
Grilled Tuna Steak - sun dried tomato & lime vinaigrette with seasonal vegetables & mashed potatos
Grilled Free Range Chicken - rosemary Margarita sauce, lime, Tequila & Grand Marnier, with Vegetables & rice du jour
Grilled Rib Steak - with seasonal vegetables, mashed potatos or rice du jour
Grilled U.S. Lambchops - fine chops with honey mustard glaze, vegetables & rice du jour
Calves Liver - sauteed onions, bacon & balsamic vinegar & served with mashed potatoes
Chicken Margarita - sauteed in lime, Tequila, Grand Marnier, with vegetables and rice du jour



Cuisine: American Continental, Eclectic
Avg. Check: $20-$30
Attire: Casual

Peterís has been catering to the Upper West Side for 25 years. The faithful crowd arrives for dinner before Lincoln Center performances, for a light snack after a movie, or just to enjoy the relaxed ambiance that the restaurant has to offer during a weeknight or Sunday morning brunch. The welcoming atmosphere includes murals depicting copies of frescoes from Pompeii, and the tables match the decor with similar designs. Flowers are placed on all the tables.

The menu at Peterís can be described as Eclectic American fare. Some highlights are the Maryland Crab Cakes, which are served in a crepe and contain fresh jumbo lump crab meat. The Oriental Grilled Shrimp is wrapped in bacon and water chestnuts, and is served in a sesame ginger sauce. There is a complete selection of homemade desserts as well, which is complimented by a list of cognacs, ports, and other dessert wines.

The restaurant is open 7 days a week, and Peterís offers a an extensive late night menu until 3a.m.on most nights. The popular adjacent barroom stays open until 4a.m., and is a haven for sports fans who come to root for the local New York teams. The bar has been won accolades from many notable New York papers and magazines.

The modest but varying wine list features selections from California, Long Island, Italy, France, Australia, and Chile. There is a nice selection of Champagne as well.

The staff at Peterís will present superior service in this comfortable setting, where your satisfaction is of the utmost importance.
PRIVATE PARTIES; PRIVATE ROOM; DELIVERY; LATE NIGHT MENU

RESERVATIONS
Not Required

CREDIT CARDS
Amex, Visa, Mastercard, Diners Club

HOURS
Lunch
11:30-4

Dinner
Sun.-Thurs.
4-11
Fri.-Sat.
4-midnight

Saturday & Sunday Brunch