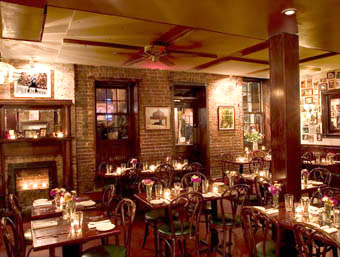 Fred's
476 Amsterdam Ave.
(@83rd)

212-579-3076



Appetizers
Mussels
in a white or red wine garlic sauce with a side of grilled sourdough bread
Fred's Twin Chicken Quesadilla
with Pico de Gallo & sour cream

Pasta
Penne Pesto
a warm pesto sauce, sun dried tomatoes, toasted pine nuts & Parmesan cheese
Orecchiette
spicy sausage, broccoli, roasted red and yellow peppers in garlic & oil
Lobster Ravioli
in an herbed wild mushroom cream sauce

Entrees
Fred's Individual Macaroni & Cheese
black diamond aged cheddar & parmesan, served with a side salad
Mom's Meat Loaf
with mushroom gravy, caramelized onion mashed potatoes & crushed vegetables
Twin Center Cut Pork Chops
Served with hot cinnamon glazed apples, cherries & sauteed vegetables
Grilled Atlantic Salmon
served with a roasted red pepper and basil salsa, caramelized onion mashed potatoes & grilled asparagus

Salads
Fred's Apple Salad
grilled Granny Smith Apples, spice rubbed roasted pecans, wild mushrooms & crumbled stilton Bleu cheese served on a bed of spinach with Fred's homemade vinaigrette
Grilled Shrimp Salad
with chopped beefsteak tomatoes, red onions & green beans served with a basil vinaigrette
Labrador Salad
beefsteak tomatoes, artichoke hearts, green beans, & fresh mozzarella with a shallot vinaigrette



Cuisine: American Grill
Avg. Check: $22-$28
Attire: Casual

ďFredísĒ was named after a female Black Labrador Retriever, bred by the dedicated people at Guiding Eyes for the Blind. Fred epitomizes everything that this Upper West Side American Grill stands for - loyalty, reliability, a need to please, and a playful spirit.

The front bar room and adjacent dining room is adorned with pictures of the lovable Fred and other dogs from neighborhood locals and canine fans across the country. With candles on all the tables and a cozy atmosphere, the dining room at Fredís is a welcoming spot. The menu consists of a variety of great dishes. Seared Yellowfin Tuna is served in a burgundy and balsamic teriyaki glaze. Fred's Apple Salad contains Granny Smith Apples, spice rubbed roasted pecans, wild mushrooms, crumbled stilton Bleu cheese and is served on a bed of spinach with Fred's homemade vinaigrette. There is a also a widely popular Saturday and Sunday brunch that includes many homemade specialties, including Fredís Famous French Toast!

Fredís also has a terrific bar, which is covered in pennies. Itís a great place to eat - alone, with a date, or a group of co-workers. The bar stays open into the early morning ours and plays great music throughout the evening.

Feel free to bring along a picture of your own dog...Fredís will find a home for it on itís walls! Come!, Sit!, & Stay! for a fun and lively dining experience at Fredís.
PRIVATE PARTIES; DELIVERY; OUTDOOR DINING

RESERVATIONS
Suggested

CREDIT CARDS
Amex, Mastercard, Visa, Diners Club

HOURS
Dinner
Sun.-Thurs.
5-11

Fri-.Sat.
3-12

Sat. & Sun. Brunch