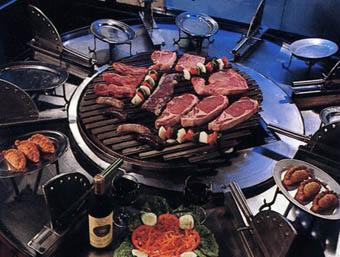 Argentine Pavillion
32 West 46th St.
(bet. 5th & 6th)

212-921-0835
www.argentinepavillion.com



Appetizers / Salads
Argentine Combo
(Meat Pie, Rolled Beef, Potato Salad, Hearts of Palm)
Rolled Beef Stuffed with Vegetables
Avocado Mar Del Plata
(Whole Avocado stuffed with Shrimp)
Russian Salad
(Cold Potato Salad with Peas, Carrots, Mayonnaise)

From the Kitchen
Kidney Japanese Style
(Kidney in Light Tomato Sauce with Peppers and Onions)
Filet Mignon Marsala with Pasta
(Filet Mignon in Marsala Wine Sauce)
Pedro's Special
(Sirloin with Fettuccini Alfredo)

Seafood
Shrimp Buenos Aires
(Sautéed in Garlic)
Shrimp Creole
(in Light Tomato Sauce with Peppers and Onions)

From the Grill
Mixed Grill
(Sausage, Blood Sausage, Sweet Bread, Kidneys, Short Ribs, Flank Steak)
Churrasco
Paella Valenciana



Cuisine: Argentine
Avg. Check: $25-$30
Attire: Casual Neat

For over twenty years, Argentine Pavillion has been at your service. The owners have worked hard to make your dining experience the best it can be. The professional staff is always ready to show you just how good dining can be.

The Argentine Pavillion serves 100% natural Argentine Beef, and is
located in the heart of Little Brazil Street (It wasn't here when they first opened!). From the choice meats, to the fresh fish, every detail is taken into consideration to make your visit the most delightful possible. As each New Year approaches, the Argentine Pavillion looks forward to continuing to serve you great food, courteous service, and a warm family atmosphere and the professionalism you come to expect from the oldest Argentine restaurant in NYC.

Conveniently Located at 32west on 46th Street between 5th and 6th Avenues, the restaurant are a hop skip and a jump from all popular attractions including, Rockefeller Center, cinemas, Carnegie Hall Central Park and FAO Schwartz.

Come in and enjoy a meal before heading to the show. The convenient location will have you a few steps away from most theatres. Why rush? You can enjoy a great meal at a great price.

The Argentine Pavillion have been serving the finest in Argentinean and Continental food for over 20 years. Come see why we are one of NY's oldest and most adored restaurants, attracting visitors the world over.
PRIVATE PARTIES; CATERING; PRICE FIXED MENUS; PRE-THEATER

RESERVATIONS
Suggested

CREDIT CARDS


HOURS
Mon.- Sat.
Noon - Midnight.

Sundays
Noon -11