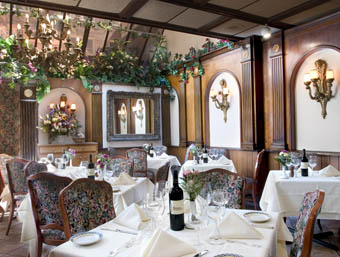 Trattoria Alba
233 E34th St
(bet. 2nd & 3rd)

212-689-3200
www.trattoriaalba.com



ANTIPASTI FREDDI
Antipasto Freddo
Salame, prosciutto, cheese, roasted peppers, olives, celery, artichokes, and pepperoncini.

Arpaccio di Manzo
Beef carpaccio

Polpa du Granchio
Crab meat with cocktail sauce

ANTIPASTI FREDDI
Gamberi alla Genovese
Shrimps with basil, cream, herbs, garlic, and oil.

Antipasto Caldo
Rolled eggplant, baked clams, shrimps, stuffed mushrooms, and peppers.

Melanzane Rollatine
Rolled eggplant with tomato and cheese

PESCE
Filetto di Sogliola alla Francese
Fresh filet of sole sautéed with white wine, lemon, and butter.

Trota con Capperi
Brook trout sauteed with capers and artichokes.

PASTA
Rigatoni al Quattro Formaggi
Large tube pasta with smoked and fresh mozzarella, Parmesan, pecorino cheese, cream,
and a touch of tomato.

Fettuccine alle Melanzane
Fettucine with eggplant, ricotta, tomato sauce,
basil, parsley, and oregano.

CARNE
Costoletta di Vitello alla Valdostana
Veal chop stuffed with prosciutto, mozzarella cheese, and mushrooms.

Vitello alla Provincale
Veal scaloppine with tomato and chopped shrimps.



Cuisine: Italian
Avg. Check: $30-$35
Attire: Casual Neat

Trattoria Alba is a family run restaurant, where everyone that dines is treated like a member of owners Mel and Myra's family. Diners wax enthusiastic about this Murray Hill trattoria and Zagat readers insist that it:"keeps getting better", is "dependable, civilized", has "moderate prices", and that the atmosphere here is "like sunset in Trieste".

The vast menu at Trattoria Alba has something for everyone to enjoy. For pasta lovers, Pappardelle Alba - wide flat pasta with shrimps, zucchini, arugula, and tomato - is a famous choice. Fish enthusiasts will crave the Dentice Appetitoso - red snapper sauteed with shrimp, red and green peppers, and carrots. The special savory Osso Bucco is sure to please any palate. Many other fine dishes are on the menu here as well, and special orders are possible. Offers of complimentary after-dinner drinks from the excellent wait staff are often extended. Trattoria Alba boasts an exquisite wine list, where each bottle is personally selected by the gracious owners.

Trattoria Alba has come to be known as THE place to throw a party. With a number of private rooms available fo the day or evening, the restaurant is the perfect place to throw your baby shower, celebrate an engagement party, or hold a corporate function. Large groups can create a menu to their liking, and always receive the same satisfaction and unabashed service throughout the event.

Customers have rated Trattoria Alba as one of the best in the city in the recently published Zagat 2005. In recognition of this honor, the restaurant was presented with the Zagat Survey "Award of Distinction". Enjoy a true Murray Hill tradition when you dine at Trattoria Alba.
PRIVATE PARTIES; PRIVATE ROOMS; CATERING; WINE TASTINGS; DELIVERY; HANDICAP ACCESSIBLE

RESERVATIONS
Suggested

CREDIT CARDS
Amex, Visa, Mastercad

HOURS
Lunch & Dinner
Mon.-Wed.
11:30am-11:00pm

Thu.-Fri.
11:30am-12:00am

Saturday
4:00pm-12:00am