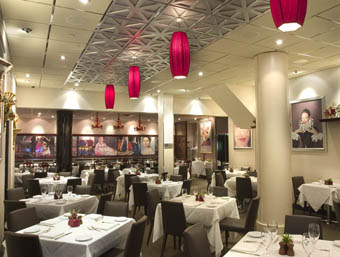 La Prima Donna
163 W47th St.

212-398-3400
www.laprimadonnany.com



Antipasti
Funghi Fritti - fried cremini, oyster, and shiitake mushrooms, tossed with diced tomatoes, herbs & truffle oil
Eggplant Rollantini - rolled eggplant filled with ricotta cheese, lightly fried, topped with cheese and fresh tomato sauce
Macaroni
Rigatoni Alla Donna - tube shape pasta, tossed with sweet & spicy sausage, peas in a creamy tomato sauce
Penne con Gamberi e Rucola - quill shape pasta sauteed with shrimps, garlic, olive oil in a light tomato sauce and topped with Julienne arugola
Lasagna Della Casa - homemade lasagna, layered with mixed vegetables & tomato bechamel sauce

Secondi Piatti
Pollo Boscaiola - tender chicken breast, grilled topped with fresh oven dried tomatos, mushrooms, & asparagus tips in a Madeira wine sauce
Fegato Alla Veneziana - suteed calf's liver, caramelized onions, splash of balsamic vinegar, served with grilled polenta
Bistecca Alla Fiorentina - dry aged rib-eye steak, grilled then topped with caramelized onions & fingerling potatoes
Tonno al Ragu' Di Legum - black & blue, pan seared filet of Ahi Tuna, served with mixed vegetables caponata

Panini Corner
Panino di Pollo - grilled breast of chicken with sliced apple, lettuce and tomato with honey mustard dressing
Panino Al Salumi - Prosciutto di Parma, salami, mortadella, oven dried tomatoes and arugula, drizzled with balsamic vinaigrette



Cuisine: Tuscan, Italian
Avg. Check: $25-$35
Attire: Casual Neat

The spectacle and pageantry of the Carnival in Venice has found a new home in New York's Theater District! La Prima Donna, Broadway's newest star, is the vision and inspiration of Mohammad Choayra. Combining his efforts with award winning Executive Chef Joseph Drapeylo, La Prima Donna's menu is designed for the modern and sophisticated New Yorker, and speaks of elegant and traditional Tuscan fare with a modern urbanity that adds a touch of panache to the cuisine making for a truly original and exceptional culinary experience.

Upon first entering La Prima Donna, the grandeur and regal ambiance of the main room reveal a true vision of ornate opulence. Set amidst warm tones of pale ivory, cinnabar red, with beige accents throughout, the theme of a Venetian Carnival greets businessmen, tourists and theatergoers alike.

The Tuscan menu includes some very original creations, such as Rigatoni Alla Donna, a tube shape pasta, tossed with sweet and spicy sausage and peas in a creamy tomato sauce. Fegato Alla Veneziana - sauteed calf's liver, is prepared with caramelized onions, a splash of balsamic vinegar, and is served with grilled polenta

Journey to La Prima Donna, the New Star of the Broadway scene and savor a Tuscan culinary adventure that will awaken your senses with a mix of tradition and sophistication.
PRIVATE PARTIES; PRIVATE ROOM; OFF-PREMISE CATERING; TASTING DINNERS; PRICED FIXED DINNERS; WINE TASTINGS; PRE-THEATER MENU; COOKING CLASSES; DELIVERY; HANDICAP ACCESSIBLE

RESERVATIONS
Reccommended

CREDIT CARDS
Amex, Visa, Mastercard, Diners Club, Discover

HOURS
Breakfast
7a.m.-10:30a.m.

Lunch
11:30-3:30

Dinner
5-12