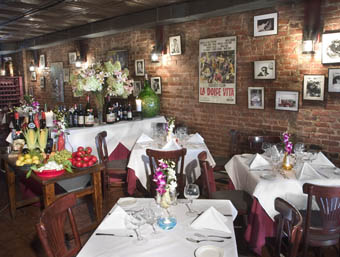 Trattoria Belvedere
165 Lexington Ave.
(@30th St)

212-684-8805



Antipasti
Fegatini Di Pollo Con Rugola - chicken livers sauteed in brown butter & sage
Calamari Grilla - fresh squid seasoned with bread crumbs & grilled
Quaglie Arrosto con Poenta E Pomodoro - quail roasted & served with polenta & tomatos
Portobello - balsamic, olive oil, garlic & basil

Paste
Ravioli Lobster - black & white ravioli stuffed with lobster & finished chopped shrimp & a touch of brandy in a tomatoe and cream sauce
Tortelini Duck - goat cheese tortelini duck breast, finely diced with chopped scallions, finished with a touch of cream
Penne Grossetanta - pasta with minced eggplant mushrooms & tomatoes
Rigatoni Carbonara - pasta with Italian bacon, egg yolk & cheese

Secondi Piatti
Petto D'Anatra con Fagioli - roasted breast of duck, served with beans
Filetto al Barolo - filet mignon with red wine & mushrooms
Veal Scalopine Tartufata - medalians of veal with fine diced shiitake mushrooms, flambeed in a brandy sauce with a touch of cream and truffle oil
Bisteca Fiorentina - rib eye steak on the bone grilled & sliced, & seared in hot olive oil, garlic, rosemary, sage, and thyme



Cuisine: Italian
Avg. Check: $25-$30
Attire: Casual Neat

This terrific romantic Tuscan hideaway adorned with fresh flowers set against a charming brick interior will seduce you with its authentic menu and attentive personal service. Your appetizer might be Calamari Grilla - fresh squid seasoned with bread crumbs and grilled - or Fegatini Di Pollo Con Rugola - chicken livers sauteed in brown butter and sage served over arugula. Dive into such pastas as the famous Ravioli Lobster - black & white ravioli stuffed with lobster and finished with chopped shrimp and a touch of brandy in a tomato and cream sauce. Fish lovers delight in the fresh catch of the day, while meat afficionados will savor the classic Veal Scalopine Tartufata - medallions of veal with fine diced shiitake mushrooms, flambee'd in a brandy sauce with a touch of cream and truffle oil.

Finish with a one-of-a-kind Tiramisu, one of the best in New York City. Every course can be matched with selected Italian imports at prices that won't offend. Testimonials from various guests are always positive. As one satisfied customer states, "The atmosphere was warm and friendly, and we felt like we had stumbled into an old friend's living room. It was a thoroughly enjoyable evening, and every time I return to NYC I will somehow find time to go back to Trattoria Belvedere."

This is a dining experience that comes very highly recommenced by patrons and critics alike.
PRIVATE PARTIES; OFF-PREMISE CATERING; WINE TASTINGS; DELIVERY; HANDICAP ACCESSIBLE; OUTDOOR DINING

RESERVATIONS
Suggested

CREDIT CARDS
Amex, Visa, Mastercard, Discover

HOURS
Lunch
Mon.-Fri.
12-3

Dinner
Mon.-Thurs.
5-10:30
Fri.-Sat.
5-11
Sunday
5-10