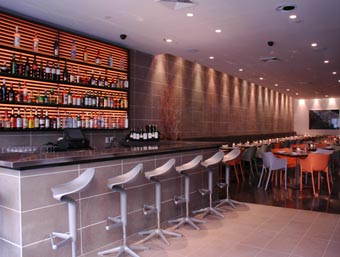 Etcetera Etcetera
352 West 44th St.
(bet. 8th & 9th Avenues)

212-399-4141
www.etcrestaurant.com



APPETIZERS

Shrimp brochette in a katafy dough, Provencal herbs and watercress salad
Imported jamòn (ham) Serrano with grilled dates rolled in pancetta, cantaloupe melon
Tuna marinated with balsamic vinegar and herbs with tahini
Mixed tapas frita with shrimp, calamari and panelle (chick pea fritters)
Breaded escargots with parsley, garlic and butter
Artichokes Roman style with anchovies and olive oil

MAIN COURSE
Risotto with sautéed imported porcini mushrooms, rosemary and prosecco
Spinach tagliolini with red mullet ragout
Grilled skirt steak with parsley, lemon roasted garlic sauce
Roasted baby goat with saffron scented couscous and toasted almonds
Grilled swordfish marinated in coriander and olive oil on chick pea puree
Baked Mediterranean dorade, sautéed artichokes with mint and Manilla clams ragout.



Cuisine: Coastal Mediterranean
Avg. Check: $30-$35
Attire: Casual Neat

Merely steps away from the lights of Broadway, Etcetera Etcetera is the perfect venue for either pre or post-theatre dinner, with a stainless-steel bar, a 50-seat dining room downstairs and a private space on the second floor. Chef Stefano Terzi, along with his partners Daniele Kucera and Franco Lazzari, unveiled their vision of a sanctuary that incorporates their unique cultural heritage blending it with years of experience gained from major New York City restaurants including their own ViceVersa. Mouth-watering Italian fare with Mediterranean accents served in an ambience punctuated by modern art and industrial design elements draws New Yorkers and tourists alike to this chic Midtown haven where the outgoing staff, headed by general manager Brian Hauserman, will certainly help you make the most of your dining experience.
PRIVATE PARTIES; PRIVATE ROOM; OFF PREMISE CATERING; PRE-THEATER MENU; COOKING CLASSES; HANDICAP ACCESSIBLE

RESERVATIONS
Suggested

CREDIT CARDS
Amex, Visa, Mastercard

HOURS
Dinner
Tues.-Sat.
5-11pm
Sun
5-10pm

Lunch
Wed.
Noon-2:30

Brunch
Sun 11:30-3