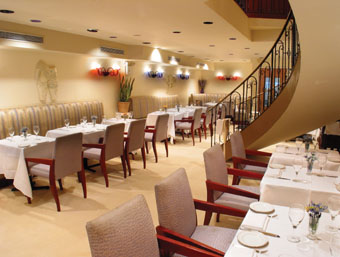 Ada
208 East 58th St.
(bet. 2nd & 3rd)

212-371-6060
www.adanyc.com



Appetizers
Bombay Basket - Melange of traditional Indian crisps, tamarind-mint dressing, pommes pailles shell
Chick Peas & Potatoes - Phyllo cup
of Masala spiced fingerlings
& pois chiches, mint & yogurt sauces
Mushroom Tomato - Peppercorn garlic-infused shitake with cheese, tomato paneer, sauteed baby spinach
Split Yellow Lentil Soup - Puree of channa daal,
sauteed fruits & vegetables
Crab Malabar - Warm spicy peekytoe salad,
braised greens, savory beignet and pappadam

Entrees
Cochin Prawns - Stir fried with scallions,
peppers, & fenu greek leaves
Lamb Shank Vindaloo - Fiery hot Goan Masala
with roasted fingerlings & haricots verte
Garam Masala Quails - Pistachio-date pillau
& wild mushroom sautee
Apple Cider Duck - pan roastd breast, brown onions tandoor fired leg with warm sweet potato salad
Kerala Fish Curry - Coconut crusted sea bass with fresh curry leaves & tomato cilantro rice
Stuffed Aloo - Scooped potato packed with paneer, vegetables & raisins, pureed spinach sauce
Cardamom Beef Tenderloin - oven roastd vegetables & sauce verte



Cuisine: Indian, Avante Garde Style
Avg. Check: $40 - $45
Attire: Casual Neat

Ada, which translates into "finesse" and "elegance", says it all. The exotic tastes of Indian cuisine, exquisitely prepared in an avant-garde style, are enjoyed by Manhattanites citywide. Fresh flowers embellish your surroundings, giving you the feeling that you are in a palace. Attentive service and attention to detail will make you feel like a pampered Maharaja.

Executive Chef Rajender Rana joined Ada in November of 2000. Previously a chef at the Delhi Hyatt Regency and the Bahrain Sheraton Hotel, Chef Rana specializes primarily in Indian cuisine, but is able to blend the traditional and conventional tastes of India whilst adding something to the mix to keep guest's attention. Creations such as the "Garam Masala Quails" with Pistachio-date pillau and wild mushroom sauté, and the "Apple Cider Duck" - a pan roasted breast with brown onions and tandoor fired leg with warm sweet potato salad on the side are some of the more mystifying dishes served in New York. Ada's top pastry chef, Newton Pryce, finds the perfect blends of spice and sweet that is customary in Indian deserts. Fixed price menus are offered during lunch and dinner hours, along with an a la carte selection that ensures that no dish will go unnoticed.

Ada is proud to offer a private dining room that can accommodate up to 100 guests. Authentic Indian cuisine and the excellent service can be at your disposal for any celebration you may have.

Rave reviews from the New York Times, the New York Post, and the Zagat Survey, along with the receipt the 2003 Five Star Diamond Award, has made Ada one of New York's top destinations for Indian fare.
BANQUETS; PRIVATE PARTIES; PRIVATE ROOM; ON & OFF PREMISE CATERING; LIVE PIANIST(TUES-SUN); TAKE OUT

RESERVATIONS
Suggested

CREDIT CARDS
Amex, Visa, Mastercard, Discover

HOURS
Lunch
Mon. - Fri. 12 - 3

Dinner
Mon. - Sat. 5:30 - 11
Sunday 5 - 10