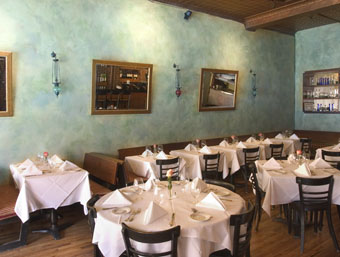 Savann
414 Amsterdam Ave.
(bet. 79th & 80th)

212-580-0202
www.savannrestaurant.com



Appetizers
Crab Cakes - served with red pepper light cream sauce
Warm Baby Spinach Salad - served with black-peppered goat cheese, radicchio, roasted oyster mushrooms, grilled zucchini, caramelized pear, & toasted with a pepper coriander emulsion
Endive Salad - mixed with radicchio, spinach, apple, dressed with walnuts, grapefruit & balsamic vinaigrette

Entrees
Seafood Savann - linguini cooked with shrimps, scallops, white beans & pancetta, in a light roasted tomato sauce
Marinated Mediterranean Lamb Sirloin - served over roasted eggplant & risotto, with a light roasted peppers yogurt garlic sauce
Mixed Seafood Filo Purse - filled with crab meat, shrimp, scallops & mushrooms, served over corn puree, with vanilla lobster sauce
Pan Searned Seven Spice Dry Jumbo Sea Scallps - served over vegetable risotto & roasted eggplant, garnished with fresh grapefruit with pomegrante sauce
Filet Mignon - served over sauteed mushrooms & mashed potatoes with balsamic vinegar sauce
Pan Roasted Lemongrass Crusted Chilean Sea Bass -served over warm lentil & corn salad, with yellow tomato cilantro vinaigrette
Pan Roasted Stuffed Pork Loin - stuffed with pear, currants, raisin, pine nuts & sage, over scalloped potatoes & sauteed spinach, drizzled with sun-dried fruit sauce
Vegetable Strudel - stuffed with portobello mushrooms & leeks with light garlic yogurt sauce



Cuisine: French, Eclectic & International
Avg. Check: $25-$30
Attire: Casual Neat

If you're seeking a restaurant where you will enjoy a relaxing afternoon or evening with very tasty food and remarkably attentive but unobtrusive service, you won't find a nicer place than Savann. A small cozy place, Savann is usually filled with a casual neighborhood crowd. Considered by some to be one of the better small affordable restaurants in Manhattan, this brick-walled, dimly lit spot features French cuisine, with an eclectic and multi international twist.

Most of the patrons that have visited New York's famous expensive French restaurants quickly realize the food here is just as good, if not better than any of them. The food in general is first class, as a fresh, creative menu, is accompanied with wonderfully well-prepared creations.

Diners enjoy such dishes as Warm Baby Spinach Salad, a heartwarming appetizer which is served with black-peppered goat cheese, radicchio, roasted oyster mushrooms, grilled zucchini, caramelized pear, and toasted with a pepper coriander emulsion. Pair that with an entrée like the signature Seafood Savann – a dish of linguini cooked with shrimps, scallops, white beans and pancetta – and you can't miss.

Savann is the perfect spot for a weekend brunch as well. There are no lines, and the mouth-watering food coupled with personable waiters will make for a completely enjoyable start to your day.

The owner is a charming gentleman who takes a personal interest in his customers and makes everyone feel at home. All in all, Savann is a splendid venue in a neighborhood that is overloaded with noisy, expensive restaurants.
PRIVATE PARTIES; CATERING; PRICE FIXED MENUS; LIVE MUSIC; DANCING; DELIVERY; OUTDOOR DINING

RESERVATIONS
Suggested

CREDIT CARDS
Amex, Mastercard, Visa, Discover

HOURS
Lunch
Mon.-Fri.
Noon - 3:30

Dinner
Mon-Sat
5-11
Sunday
3:30-11

Brunch
Sat. & Sun.
Noon-3:30pm