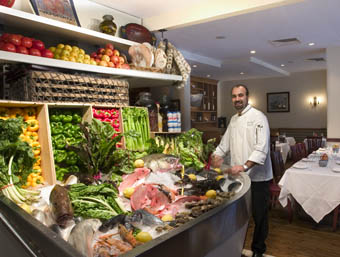 Trata Estiatorio
1331 2nd Ave.
(bet. 70th & 71st)

212-535-3800
www.avrany.com/trata



Orektika ~ Appetizers
Spanakopita - authentic spinich pie, with a mixture of fresh spinach, leeks & onion, wrapped in crispy fillo pastry
Octapodi - grilled sushi quality octopus, over onion, capers, peppers, extra-virgin olive oil & red wine vinegar
Garides - grilled jumbo shrimp
with extra-virgin olive oil, lemon, & herbs
Saganaki - lightly pan-fried kefalograviera cheese
Kavourokefte - Maryland jumbo crab cake,
served with white beans & mustard mayonnaise

Whole Fish Selections
Barbouni - Mediterranean delicacy
with sweet flavor & aroma. Tends to be bony but
highly flavorful - when small, bones are edible
Dover Sole - "America's Favorite Sea Creature" Tender firm texture with fine delicate taste
Lavraki - "Loup de Mer" European Sea Bass, lean white fish with moist tender flakes
Fagri - Firm & flavorful Mediterranean white Snapper

Kyria Piata ~ Main Course
Xifias - skewered swordfish cubes, grilled with tomato, onion & green pepper, served with roasted lemon potatoes
Paidakia - grilled Mediterranean-style
Colorado lamb chops



Cuisine: Greek Seafood
Avg. Check: $40 - $45
Attire: Casual Neat

To experience the freshest seafood and fish on the Upper East Side, one must experience a night of dining at Trata Estiatorio. The owners of this Greek seafood establishment boast that their fish is flown in daily from the Mediterranean. Once it arrives in the restaurant, it is prominently displayed in the dining room for all to see and appreciate.

The bright and lively atmosphere allows diners to achieve a festive mood, while enjoying some of the most authentic dishes of any restaurant in the neighborhood. Cyprus born Executive Chef Christos Christou, an alumnus of the French Culinary Institute, recommends with pride his signature dish, called Plaki- a roasted Chilean seabass with beefsteak tomatoes, vedalia onions, fresh thyme and garlic, cooked in a light fish broth. He is equally enthusiastic to recommend Kakavia, which is often described as a fisherman's stew, containing a specially selected variety of fresh fish, as well as the Astako-Makaronada Trata, in which a live lobster, cooked to order, becomes the main ingredient in a special homemade sauce, which is tossed with pasta right at your table.

The wine list is made up exclusively of wines from Greece. With over 120 brands to choose from, every village seems to have it's representation. "We are the only Greek restaurant in New York City that can offer our diners this kind of experience" boast the proud owners.

Come experience for yourself what the Zagat Survey has called "impeccably fresh, out-of-the-ordinary seafood".
FIXED PRICE LUNCH AND DINNER MENUS; PRIVATE PARTIES; OFF PREMISES CATERING; OUTDOOR DINING; HANDICAP ACCESSIBLE

RESERVATIONS
Suggested

CREDIT CARDS
Amex, Visa, Mastercard, Diner's Club, Discover

HOURS
Lunch
Sat. - Sun. 12 - 4

Dinner
7 Days 5 - 12