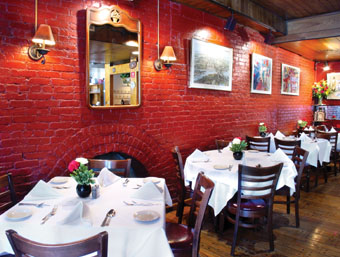 Arturo's
1617 York Ave.
(at 85th)

212-535-4480



Antipasti
Mozzarella e Pomodori - fresh mozzarella & tomato
Antipasti Assoritto - assorted hot appitizer for two, with clams, mussels, shrimps, & stuffed peppers
Melanzane Rollatini - rolled eggplant stuffed with ricotta & mozzarella, baked with tomato sauce
Calamari Fritti - fried calamari

Vitello
Scallopini Sorrentino - scallops of veal baked with eggplant, prosciutto, mozzarella, & a dash of tomato sauce

Rollatini Marsala e Funghi - rolled veal stuffed with mozzarella & prosciutto in a mushroom & Marsala wine sauce

Pollo
Pollo alla Scarpariello - small pieces of bonless chicken, sauteed with garlic, white wine, and lemon

Pesce
Gamberi Fra Diavolo - Sauteed shrimps, clams, & mussels in a white wine, garlic, & plum tomato sauce

Filetto de Sogliola Livornese - filet of sole poached with white wine, olives, capers & onions in a light tomato sauce with garlic

Carne
Carne alla Pizzaiola - simmered with garlic, & plum tomatoes

Veal Chop Insalate - breaded, pan-fried veal chop, topped with arugula, tomato & onion



Cuisine: Italian
Avg. Check: $20 - $25
Attire: Casual Neat

Opened in 1982, Arturo*s is one of the few remaining "real deal" Old Fashioned Italian Restaurants on the Upper Ease Side. Chef/Owner Joseph Napolitano who opened the business and named it after his father, is proud to offer to his dedicated clientele a "no frills" dining experience.

The food at Arturo*s seems to come from the heart, a tradition that is long forgotten by many of today*s more trendy eateries. Its simple decor, complete with exposed red brick and wood-board floors, lets diners understand that it*s all about the food here. House specials, such as the Seafood Combination - lobster tails, calamari, clams, mussels and scallops - is served over a bed of linguini in a spicy marinara sauce. Also highly recommended is the Veal Chop Voldastano which is stuffed with prosciutto and mozzarella, and sauteed with Marsala wine and mushrooms. The Osso Bucco is not to be missed. Joseph is quick to attest to the fresh Italian cheesecake, a favorite among regulars and newcomers alike, which is homemade by his mother-in-law. An extensive wine list consists mainly of Italian labels. 

Arturo*s is proud to offer a large private room on the lower level of the restaurant. Parties of 20 people or more are welcome to come rejoice in family celebrations or organized corporate functions. Either way, Arturo*s will be sure to please all those looking for the highest quality food, at reasonable prices - without the gimmicks.
PRIVATE PARTIES; PRIVATE ROOM; ON PREMISE CATERING; TAKE OUT

RESERVATIONS
Parties of three or more

CREDIT CARDS
Amex, Visa, Mastercard, Diner's Club, Discover

HOURS
Lunch & Dinner
Mon. - Fri. 11am - 11pm
Sat. - Sun. 5 - 11:30