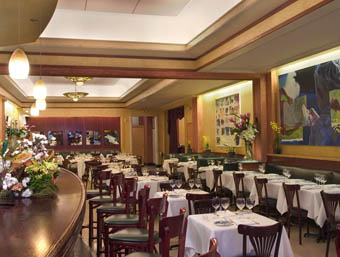 Gabriel's Bar & Restaurant
11 West 60th St.
(bet. B-way & Col.)

212-956-4600
www.gabrielsbarandrest.com



APPETIZERS
Mussels steamed with White Wine, Tomato, Garlic and Hot Pepper
Thinly sliced Wild Boar Prosciutto aged Asiago Cheese, shaved Red Onions and roasted Green Olives
Caesar Salad, hearts of Romaine tossed with Sesame Seeds and Croutons. Topped with shaved Parmesan and marinated Anchovies
PASTA
Pappardelle tossed in a Duck Ragu flavored with Rosemary, Black Olives and dried Porcini
Ravioli Zucca pasta filled with caramelized Butternut Squash, tossed in Brown Butter and Sage
Risotto Del Giorno
WOOD GRILL
Baby Chicken marinated with Buttermilk and Rosemary, served with Garlic Mashed Potatoes, Roasted Onions and Broccolini
Marinated Lamb Chops served with Mashed Potatoes and grilled Asparagus
Tuna Steak with fresh Horseradish, sautéed Spinach, Sun-dried Tomatoes and a puree of dried Fava Beans
Kid Arrabbiato, Goat slow roasted with Red Wine Vinegar and Hot Pepper, served with roasted Potatoes and sauteed Snap Peas
Poppy seed crusted filet of Salmon "Agro-Dolce", with Italian Grain Couscous and sauteed Carrots dusted with fresh gound Nutmeg
Short Ribs of Beef braised in Dark beer, Orange and Sage, over soft White Polenta and Tuscan Kale



Cuisine: Northern Italian
Avg. Check: $40-$45
Attire: Casual Neat

Pure. Simple. Plentiful. Straightforward. Rich. True. Heartwarming. Real. These are the words that owner Gabriel Aiello uses to describe his namesake restaurant, Gabriel's, located adjacent to the new Time Warner Center on West 60th Street.

The grand space is decorated with a personal touch - Gabriel's wife, fine artist Christina Keefe - displays her wonderful paintings throughout the eatery. A private party room, with a maximum capacity for 36 guests, is available. Of course, the entire restaurant can be requested for larger parties. Of course, Larger parties are welcome in the main dining room

Gabriel's astonishes its patrons by delivering an impeccable seasonal menu that the restaurant enjoys varying five times a year. Executive Chef Matthew Hayden proudly boasts that the menu is a reflection of the combined efforts and talents of the kitchen as a whole. His attention to detail, coupled with his instinctive cooking style, wins him praise and personal joy in everything he creates. As an appetizer, one might select the Mussels, which are steamed with white wine, tomato, garlic and hot pepper. Pasta lovers will revel in some wonderful original creations, such as Pappardelle tossed in a duck ragu, which is flavored with rosemary, black olives and dried porcini. For the more adventurous meat eaters, the menu is filled with game. Try the Kid Arrabbiato - goat slow roasted with red wine vinegar and hot pepper - another one of the unique dished that spread themselves throughout the menu.

Always filled with famous celebrities, respected world leaders, and world-class musicians, Gabriel's Bar & Restaurant is truly the place to be on the Upper West Side.
PRIVATE PARTIES; PRIVATE ROOM; OFF PREMISE CATERING; TASTING DINNERS; WINE TASTINGS; PRE-THEATER MENU; HANDICAP ACCESSIBLE

RESERVATIONS
Required

CREDIT CARDS
Amex, Visa, Mastercard

HOURS
Lunch
Mon.-Fri.
12-3

Dinner
Mon.-Thurs.
5-11
Fri. & Sat.
5-Midnight




CLICK HERE TO POST YOUR COMMENTS
ABOUT GABRIEL'S BAR & RESTAURANT