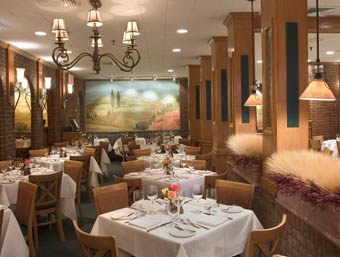 Nino's Tuscany
117 West 58 St.
(bet 6th & 7th Ave.)

212-757-8630
www.ninostuscany.com



Anitpasti
Antipasto Toscano - assortment of Italian cured meats, pecorino cheese & crostini
Trippa alla Fiorentina - tripe stewed with with white wine, rosemary & parmigiano

Insalate
Portobello e Gorgonzola - frisee, portobello, gorgonzola, pears & walnuts

Zuppe
Ribollita - hearty vegetable soup with Tusacan kale, swiss chard, savoy cabbage, cannellini beans & bread

Primi
Gnocchi al Gorgonzola - potato gnocchi in a creamy gorgonzola & rosemary sauce
Linguine alle Vongole - baby clams, olive oil, garlic, white wine & hot pepper flakes
Coniglio del Giorno - rabbit of the day
Polletto alla Griglia - grilled chicken breast with arugula, frisee, cherry tomatoes, & mushrooms
Aragosta fra Diavolo - 4lb lobster fra diavolo served with linguine
Trancio di Tonno - pan seared yellowfin tuna with roasted portobello, peppers, spinach & truffle oil
Secondi
Nodino al Tartufo - grilled rack of veal chopped finished in a white truffle white wine sauce on a bed of asparagus & topped with black truffles
Tagliata alla Fiorentina - certified angus serloin steak, grilled, served sliced over arugula, sliced tomatoes & fingerling potatoes



Cuisine: Tuscan
Avg. Check: $30-$40
Attire: Casual Neat

Welcome to restaurateur Nino Selimaj's newest masterpiece, Nino's Tuscany. Many New Yorkers, especially those from the Upper East Side, have previously experienced the hospitality, graciousness and warmth at Nino's, Nino's Positano and Osso Buco. Those of you who have not experienced any of Nino's successful Italian eateries will be enthralled by the newest member of the family, and the wonderful Tuscan fare it presents to patrons.

Nino would personally like to I extend an invitation for you to join him at his newest location on the West Side of Manhattan. The classic Tuscan cuisine includes original dishes like Aragosta fra Diavolo - a 4lb lobster fra diavolo served with linguine, and
Trancio di Tonno –a pan seared yellowfin tuna with roasted Portobello, peppers, spinach and truffle oil. Pasta lovers will revel in dishes such as Gnocchi al Gorgonzola - potato gnocchi in a creamy Gorgonzola and rosemary sauce, and Linguine alle Vongole - baby clams, olive oil, garlic, white wine and hot pepper flakes. An affordable lunch and dinner price fixed menu is available each day.

An impressive wine list accompanies the innovative menu, as over 150 bottles make an appearance. Super Tuscans are readily available of course, as are many fine French and Californian selections as well

Nino's Tuscany stands out from the overcrowded Italian restaurant scene and will rate an A-plus on any restaurant report card.
PRIVATE PARTIES; PRIVATE ROOM; OFF-PREMISE CATERING; LIVE MUSIC; PRICE FIXED DINNERS; WINE TASTINGS; DELIVERY

RESERVATIONS
Suggested

CREDIT CARDS
Amex, Visa, Mastercard, Diners Club, Discover

HOURS
Lunch
Mon.-Fri.
11:30-4

Dinner
7Days
4-11