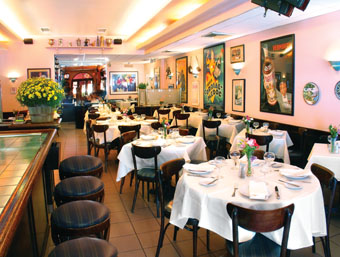 Divino
1556 2nd Ave.
(bet. 80th & 81st)

212-861-1096
www.divinoristorante.net



Antipasti Caldi & Freddi
Insalata di Mare Genovese - Seafood Salad
Avocado & Gamberi In Bella Vista - Avocado, Shrimp, Mustard

Pasta
Fettuccine Costa Adriatica - Shrimp, Tomato, Basil

Rigatoni alla Siciliana - Eggplant, Mozzarella, Tomato, Basil

Gnocchi alla Divino - Potato, Asparagus, Ham, Cream Sauce

Penne alla Romana - Baby Artichoke, Peas, Ham

Pappardelle ai Porcini - Mushrooms, Ham, Cream Sauce

Secondi Piatti
Gamberoni alla Divino - Jumbo Shrimp, Butter, Wine, Garlic, Capers

Dentice Mare Monti - Red Snapper, Shrimp, Mushrooms, Tomato, Garlic

Pollo allo Champagne - Breast Chicken, Champagne, Cream

Scaloppine del Buongustaio - Mushroom, Asparagus, Artichoke

Abbacchio al Forno - Rack Of Lamb



Cuisine: Northern Italian
Avg. Check: $25 - $30
Attire: Casual Neat

Divino Ristorante is a charming and cozy Italian restaurant offering a range of delicious and innovative delicacies. The owners, Antonio Bongioanni and Mario Balducci offer an ambiance that is perfect for a romantic dinner. Soft pink lighting creates a warm atmosphere and highlights the lithographs on the walls. An impressive spread of antipasti at the entrance of the dining room is a pleasant sign of what's in store for guests.

Divino is proud to offer many nightly specials in addition to its already varied menu. Baked baby artichoke with capers, black olives and a sprinkle of garlic and Parmesan is a favorite, as is the Scaloppini del Buongustaio, a veal dish with mushroom, asparagus, and artichoke. An extensive but affordable wine list, with a focus on wines from Italy and California, completes the classic Italian feel. There is live music on the weekends, creating a festive mood that guests have come to appreciate.

Divino's success is attributed to the caring owners' hands-on expertise, the loyal staff, and reasonably priced fare. Opened over 27 years ago, the restaurant, with its elegant and inviting décor, has a delightful menu which transcends expectations of traditional Italian food. From the homemade bread to the freshly baked desserts, all food is prepared and served with pride. Service here is personal and attentive, but never overbearing. Divino has a strong neighborhood following, and also attracts many out-of-town visitors who take advantage of the pre-theater dinner packages offered.
TASTING DINNERS; LIVE MUSIC; FIXED PRICE DINNERS; MID-WEEK DINNER SPECIALS; TAKE OUT; PRIVATE PARTIES; ON & OFF PREMISE CATERING; OUTDOOR DINING; HANDICAP ACCESSIBLE

RESERVATIONS
Suggested

CREDIT CARDS
Amex, Visa, Mastercard, Diner's Club

HOURS
Lunch
7 Days 12 -4

Dinner
7 Days 4 - 11