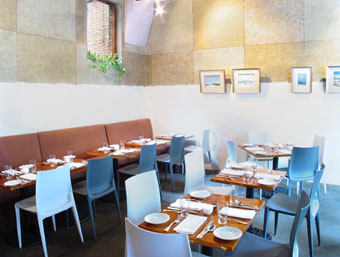 Etats Unis
242 East 81st St.
(bet. 2nd & 3rd)

212-517-8826



First Courses
Picked this morning greenmarket corn in a simply delicious soup with a dollop of ancho chili butter

Tossed green salad with crumbled bacon, poached egg, croutons, red onion, & a light tarragon dressing

"Tacos" of Niman Ranch pork braised in Elio's red mole with sliced mango & cilantro

Handmade spaghetti with hand-picked Dungeness crab, sliced scalions, lemon zest, & parsley

Our own dill & Vietnamese black peppered cured gravlax with homemade potato chips, julienned radish, diced cucumber, sliced red onion,
& creme fraiche

Second Courses
Mexican style roast chicken casserole served with Tim Stark's fabulous heirloom tomatoes

Niman Ranch pork chop with roasted peach & basil chutney; served with greenmarket corn spoonbread & sauteed broccoli raab

Wild Atlantic halibut charcoal grilled & served with a summer simmer of heirloom tomatoes, peppers, onions, haircots verts, & fresh basil

Charcoal grilled rack & leg of lamb with fresh mint pesto, roasted potatoes, carrots, & baby artichokes

Steamed to order lobster salad with sliced new potatoes, avacado, sliced heirloom tomatoes, rosated corn, & a lobster, lemon & basil vinaigrette

Toshi's Desserts
Baked to order date pudding with caramelized rum sauce

Rich chocolate souffle with a warm soft center



Cuisine: American Creative
Avg. Check: $35 - $40
Attire: Jackets Optional

Etats Unis, well tucked into 81st Street, serves contemporary "Creative American" fare, that for the last 12 years has been dazzling diners with some of the most inventive dishes in New York City. Co-owners/chefs Bill Ramsey and Tom Rapp have created a highly selective menu which changes nightly and is driven by what is fresh at the market that very morning. Because of its size (Etats Unis has about 14 tables), the restaurant can afford to be very particular with the food it serves to it's dedicated clientele.

The atmosphere, which is simple but sleek, attracts an upscale crowd looking for the freshest food available. One of the kitchen's best known dishes (if you are lucky enough to catch one before it sells out), is the charcoal prime aged rib eye steak for two, aged on the premises. "We sell no steak before it's time", states the chef. Another popular mainstay is the house meatloaf, served in a slow roasted tomato sauce and accompanied by a side order of mashed potatoes. An impressive wine list, which offers a large selection of wine by the glass, fits perfectly into the dining experience.

Etats Unis offers two seatings every night, the first between 6 and 7 P.M., and the second beginning 8:30. Directly across the street from the restaurant is the bar. Lunch is served there daily, and the separate menu has won raves from those who have discovered this secret.
WINE TASTINGS; PRIVATE PARTIES, ON AND OFF PREMISE CATERING; HANDICAP ACCESSIBLE

RESERVATIONS
Strongly Suggested

CREDIT CARDS
Amex, Visa, Mastercard, Diners Club

HOURS
Dinner
7 Days 6 - 11