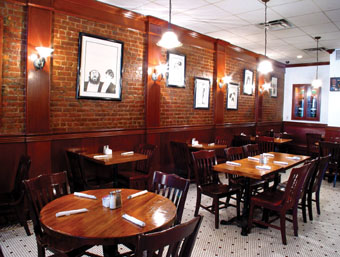 Hanratty's
1410 Madison Ave.
(bet. 97th & 98th)

212-369-3420



Sandwiches
Grilled Sliced Certified Angus Steak - served on French garlic bread

Burgers
8 oz Certified Angus Beef Burger - served with lettuce, tomato, & homemade French Fries on a toasted English muffins

Salads
New Grilled Shrimp & Scallop Salad - served with grilled endive & tomato over baby greens dressed with a citrus vinaigrette
South Beach Salad - mixed greens, grape tomatoes, roasted corn, golden raisins, sliced strawberries, blackberries, & plantain chips with strawberry vinaigrette
Hanratty's Salad - spinach, arugula, asparagus, goat cheese, pears & mandarin oranges with tarragon citrus vinaigrette

Entrees
New Zealand Rack of Lamb - tender & cooked to you temperature

Certified Angus Sirloin Steak - grilled to your specific temperature & is accompanied by a baked potato

Hanratty's Fried Chicken - honey dipped & lightly breaded to stay crispy & moist, served with our homemade mashed potatos

Pan Seared Certified Angus Filet Mignon Au Poivre - 100% certified Angus filet is the chef's recommendation

Pasta
New Seafood Pomodoro - the freshest shrimp, clams & mussels are sauteed in a roasted garlic, fresh tomato, herb & olive oil sauce, served over Linguine

Penne & Cajun Chicken - sauteed in basil & olive oil & accompanied by our Cajun chicken



Cuisine: American
Avg. Check: $15 - $20
Attire: Casual

Every once in a while, the sophisticated folk that inhabit Carnegie Hill yearn for a break from the stuffy over-priced eateries that reside in their neighborhood. Hanratty's restaurant, located opposite Mount Sinai Medical Center, fills the void. This newly renovated local American offers very affordable food in a cozy, yet unpretentious atmosphere. The "New York look" consists of wood trim, exposed brick walls, and a simple candle on each table. The casual atmosphere offers guests a no-fuss dining experience - a welcome change to the other establishments in the area.

All the meat dishes at Hanratty's (Sirloin, Filet, Burgers) are certified Angus. Deep Marinated Half Broiled Chicken, baked and served quatered, is accompanied by homemade mashed potatos and delicious gravy. Penne and Cajun Chicken, sauteed in basil and olive oil is another must-try house specialty.

Hanratty's offers a happy hour everyday, between 4PM and 6PM, and an extensive martini menu complements the wine list, which offers selections from France, Chile, California, and South Africa. Private parties may be booked for larger parties, and many can sample the fare in their own homes as the complete take-out menu offers guests a chance to sample the food outside of the restaurant.

Come to Hanratty's for a relaxing meal, or to blow off steam after a long workday. The friendly service and a relaxed atmosphere will present a much-needed alternative to the other-wise more formal establishments in the area.
PRIVATE PARTIES; ON PREMISE CATERING; BI-ANNUAL WINE TASTINGS; TAKE OUT

RESERVATIONS
Not Required

CREDIT CARDS
Amex, Visa, Mastercard

HOURS
Lunch
7 Days 11 - 4

Dinner
7 Days 4 - 11