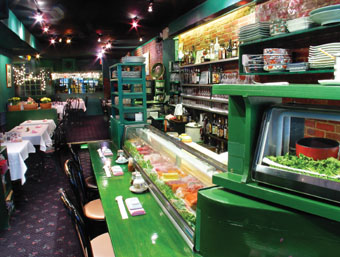 Ikeno Hana
1016 Lexington Ave.
(bet. 72nd & 73rd)

212-737-6639



Ikeno Hana Specials
Unadon - broiled eel with seasoned sauce
on an bed of rice
Shrimp with Garlic - broiled shrimp with garlic
Yosenabe - assorted seafood, chicken, noodles & vegetables in broth
Ikeno Hana Box - Tempura, Teriyaki, Shumai, Sushi & Sashimi
Lobster Harmaki - deep fried & wrapped
like a spring roll served with tomato salsa and miso

Oyster Teriyaki

Steamed or Broiled Salmon Teriyaki

Beef, Chicken Breast, or Pork Teriyaki

Steamed or Broiled King Crab

Kaki Fry - oyster cutlet with special sauce

Fresh Sushi & Sashimi

Chef's Special Box Dinner



Cuisine: Japanese
Avg. Check: $20 - $40
Attire: Casual

Ikeno Hana brings a fresh change to the numerous French bistros found on Lexington Avenue. Nearly eight years old and still going strong, this Japanese mainstay serves fresh sushi and traditional Japanese fare in a cozy and comfortable environment. The large sushi bar at the front of the room offers diners the ability to get up-close and personal with the friendly sushi chefs that are eager to please. The small dining area in the back portion of the restaurant is a quiet place where guests can enjoy hot food from the kitchen while dining in a relaxing environment.

The food at Ikeno Hana is very affordable compared to the other more expensive eateries in the neighborhood. High-profile notables frequent this restaurant even though there are many other Japanese restaurants closer to their homes. A menu that carries many traditional Japanese dishes offers some creative surprises as well. Lobster Harmaki - deep-fried and wrapped like a spring roll is served with tomato salsa and miso. Separate Tempura, Katsu, and Kushi-age items are available as well. Ikeno Hana is known in the neighborhood as having one of the best Teriyaki sauces and salad dressings available. A large take-out and delivery menu allows regulars to "get their fix" and enjoy the fresh food in the comfort of their
own homes.

Ikeno Hana is proud to present a sushi menu that boasts some of the freshest fish available. The Zagat Survey stated that the fish is "so fresh it swims to the table". With one visit to this reliable Japanese restaurant, you will see what the masses have been talking about.
TAKE OUT

RESERVATIONS
Suggested

CREDIT CARDS
Amex, Visa, Mastercard

HOURS
Lunch
Mon.-Fri. 12 - 2:40
Sat. 12:30-3:30

Dinner
Mon.-Thurs.
5-10:45
Fri.
5-11
Sat.
5:30-11
Sun.
4-10:30