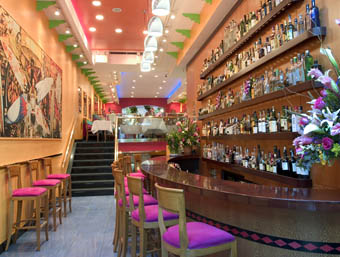 Mama Mexico
214 East 49th St.
(bet. 2nd & 3rd)
212-935-1316

2672 Broadway
(at 102nd St.)
212-864-2323

Englewood Cliffs, NJ
201-871-0555
www.mamamexico.com



Appetizers
Ensalada Ranchera - grilled shrimp, scallops & calamari marinated with a mild smoked chipolte lime sauce
Quesadilla a la Brasa - grilled large flour tortilla folded in half with vegetables & cheese & topped with red & greean sauces & sour cream
Sopes de Colima - grilled Mexican corn masa patties topped with chopped hickory smoked steak, pico de gallo, refried beans, melted cheese, red onions, radish & guacamole

Soups
Sopa marina - clams, mussels, crabmeat, calamari & vegetables in a white wine fish broth
Sopa de Tortilla - shredded chicken, vegetables & rice in a chicken broth, garnished with crispy tortilla strips & sliced avocado

Main Courses
Camarones Hornitos - sauteed jumbo shrimp in a tequilla-mango sauce with onions, peppers & cilantro
Bistec Mariposa - grilled rib-eye steak marinated with costello chile dressing & finished with a mushroom-red wine sauce
Punta al Tequila - pan-seared filet mignon with shiitake, cremini & oyster mushrooms in a creme fraiche-tequila sauce
Pollo al Limon - sauteed chicken breast with white wine, lemon & garlic
Salmon Cozumel - grilled salmon topped with barbeque sauce & served over green poblano sauce
Cabrito Monterrey - grilled rack of lamb marinated with Mexican herbs



Cuisine: Authentic Regional Mexican
Avg. Check: $30 - $45
Attire: Casual Neat

Stylish clientele sip tall, potent margaritas at the elegant bar surrounded by strolling mariachis, while the happy "Mexican Mood" dining room is full of chick international crowds. This makes Mama Mexico one of New York's most "in places".

This upscale fiesta of a restaurant/bar designed by world reknowned architect, Mohindra Kawlra, exudes a colorful and romantic ambiance enhanced by exotic custom designed etched glass murals depicting the culture and intellectual achievements of the ancient Mayan and Aztec kingdoms.

The success of this restaurant is due to the collaboration of six brothers. The brothers grew up in a tiny village in Mexico. Mama taught them authentic home cuisine, while Papa encouraged
them to be together in business in America. When the boys came to New York, they worked in various upscale restaurants until they saved enough money to open an Upper West Side eatery of
their own. It quickly became one of the most festive restaurants in the neighborhood.

When this new mid-town "hot spot" opened 3 years ago it became an instant success. It is one of the few restaurants to receive the Five-Star Diamond Award by the prestigious American Academy of
Hospitality Sciences.

The New York Times says, "Friendly and likable...spicing is tame but drinks are potent". The Zagat Survey says, "Great guacamole, it is party central with these spirited Mexicans. The Mexican fare created by the multi-creative chef/brothers produces haute cuisine of various regions of Mexico.

Try fresh quacamole prepared at your table before sampling the many delicacies from the sea, the steak with mushroom cream tequila suce, the famous sizzling fajitas and other dishes incorporating the freshest ingredients available. Let your gracious host, Juan Campos, recommend a selection of aged, rare tequilas to complete your evening.
CATERING; CORPORATE PARTIES & DELIVERY; CHILDREN'S MENU; OUTDOOR DINING; TAKE-OUT; LIVE MUSIC.

RESERVATIONS
Recommended

CREDIT CARDS
Amex, Visa, Mastercard, Diner's Club, Discover

HOURS
Lunch & Dinner
Sun. - Thurs. 12pm - 12am
Fri. & Sat. 12pm - 2am