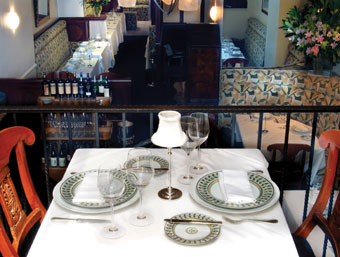 March
405 East 58th St.
(bet. 1st & 2nd)

212-754-6272
www.marchrestaurant.com



raw specialties
hirame sashimi with olive oil & white soy sauce,
sesame seeds & chives

oyster & scallop ceviche with miso & shallot mignonette

vegetarian
asparagus vinaigrette & snap pea purée,
bonito flakes & spicy olive oil

fricassée of seasonal vegetables with coconut milk, lemongrass & citrus flavors

shellfish
scallop ravioli with tomato & lobster cream

soft shelled crab with baby vegetables
& morel mushroom coulis

fish
seared bluefin tuna with black kale, quinos & caramel soy

irish salmon with parsley & tarragon purée

poultry
foie gras de canard au torchon with sweet indian spices, kabocha chutney & sautéed almonds

poached chicken breast & roulade de cuisse
with confit of shallots, iranian barberries & clove in hard cider

meats
rack of colorado lamb with broccoli risotto & lamb jus

braised veal with fregola, zucchini, tomato, garlic & basil



Cuisine: New American
Avg. Check: $68 Dinner / $35 Lunch
Attire: Jacket Requested

March Restaurant provides an intimate, romantic atmosphere in an elegant turn-of-the-century New York townhouse off Sutton Place on East 58th Street. Wayne Nish, chef/co-owner of March, and his partner, Joseph Scalice, opened their acclaimed New York City New American restaurant in August 1990. During the fifteen years of its impressive history, Nish and Scalice have transformed March into one of Manhattan's premier destination restaurants.

The entrance boasts a working fireplace, and floor-to-ceiling mirrors frame a marble-topped Louis XV sidetable. The townhouse unfolds to reveal a beautiful balcony with three tables that overlook the new North dining room (formerly the garden) and sits just below the new Mezzanine level.

The Mezzanine, a private refuge seating 15 guests, overlooks the main floor dining room. It has a copper and glass gabled ceiling, and French doors that lead out to a porcelain tiled rooftop terrace that views the new "Bridge Market" and the Roosevelt Island tram.

The continued success of March is largely due to Chef Nish's philosophy in the kitchen and his great respect for cultural and historical influences on the art of cooking. As host at March, Joseph Scalice's extensive training, gracious hospitality, and award-winning wine lists, combined with his creative vision and ambitious goals, make him one of this country's most preeminent restaurateurs. Among the kudos that March has received are: induction into Nation's Restaurant News 2001 Fine Dining Hall of Fame; four stars from the Forbes 2001 All-Star Eateries; four stars from Mobil Travel Guide 2002; and four and a half stars in Passport To New York Restaurants 2001.
WINE TASTINGS; PRIVATE PARTIES; PRIVATE ROOMS; ON PREMISE CATERING; HANDICAP ACCESSIBLE

RESERVATIONS
Requested

CREDIT CARDS
Amex, Visa, Mastercard

HOURS
Lunch
Mon. - Fri. 12 - 2

Dinner
7 Days 5:30 - 10:45