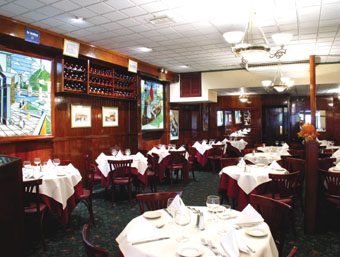 Parma
1404 3rd Ave.
(at 81st)

212-535-3520



Appetizers
Melone & Prociutto Di Parma
Clams on the Half Shell

Pasta
Agnelotti - ravioli stuffed with chicken, veal, spinach & parmesan in a tomato or porcini sauce
Paglia e Fieno - green & white noodles with peas, onion, prosciutto, pancetta, onions & wine
Gnocchi - potato, egg & cheese dumplings
in a tomato or porcini sauce
Linguine al Pesto - olive oil with chopped garlic, basil, parsley & pine nuts

Veal
Veal Scaloppine Marsala - sauteed with marsala wine & mushrooms in a brown sauce
Saltimbocca Fiorentina - sauteed with white wine with sage, spinach & prosciutto
Calf's Liver - broiled or sauteed veneziana with onions, white wine & consomme

Chicken
Pollo Babbi - butter-flied, cornish hen
cooked under pressure with crushed pepper & salt
Chicken a la Parma - breaded in cheese,
sauteed with wine, lemon & consomme

Fish
Red Snapper a la Parma - sauteed with garlic, shallots, mushrooms, tomato & artichoke
Dover Sole - broiled or sauteed meuniere with lemon, wine & consomme



Cuisine: Italian
Avg. Check: $35 - $40
Attire: Jackets Optional

For the past 28 years, Parma Restaurant has served quality old-time Italian cuisine. This Upper East Side Italian restaurant sticks to the basics like gnocchi, spaghetti Bolognese and fettucine Alfredo. The long list of regulars that frequents Parma assures that the food, ambiance and service is hard to exceed. Most of the wait staff has been with this fine restaurant for almost 15 years.

The basic Italian menu which includes the freshest of veal, fish, steaks and desserts is of the highest quality. Few restaurants, if any, can compete with Parma's veal chop which, is always a favorite. Pasta dishes, such as the Agnelotti, which is ravioli stuffed with chicken, veal, spinach and parmesan is prepared in a tomato or porcini sauce. Paglia e Fieno - green & white noodles with peas, onion, prosciutto, pancetta, onions and wine is a classic that has been mastered at this institution. Red Snapper a la Parma, a house specialty, is sauteed with garlic, shallots, mushrooms, tomato and artichoke. The always popular Dover Sole can be broiled or sauteed meuniere with lemon, wine and consomme . Either way, it's a must-try.

The extensive wine list, consisting mostly of fine Italian wines, ads a classic feel to the experince. The main attraction is still the no-nonsense, professional service by the loyal waitstaff, who are always aiming to please both regulars and newcomers. They follow the lead of the gracious owners, who greet each patron personally as they arrive.

At Parma you will experience the classics of fine Italian cuisine in a most comfortable atmosphere where you will meet your friends again and again.
PRIVATE PARTIES; TAKE OUT; HANDICAP ACCESSIBLE

RESERVATIONS
Required

CREDIT CARDS
Amex, Visa, Mastercard, Diners

HOURS
Dinner
7 Days 5 - 11