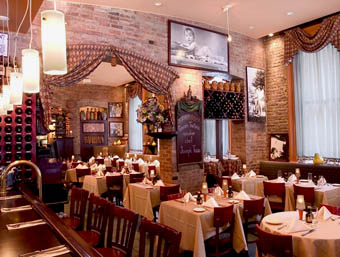 Grace's Trattoria
201 East 71st St.
(bet. 2nd & 3rd)

212-452-2323



Antipasti
Bruschetta - prosciutto, tomato & mozzarella
Mussels - white wine, tomato & garlic
Grilled Shrimp - arugala, lemon vinaigrette

Insalate
Grilled Octopus - mesclun greens, pine nuts, peppers & raisins

Pasta
Fettucine - Lobster, herbs & wild mushrooms
Penne - shrimp, Bermuda onions & arugula
in a plum tomato sauce
Lasagna - layered with bolognese sauce, ricotta, & mozzarella cheese

Pesce
Chilean Sea Bass - olive-plum tomato sauce & orzo
Scallops - cannellini, peppers & oregano vinaigrette

Vitello, Pollo & Carne
Chicken Breast - balsamic vinegar, onions, baby bell peppers
Veal Scallopine - mushrooms, tomatoes, capers, lemon & white wine sauce
Lamb Shank - creamy polenta, pizziola sauce



Cuisine: Southern Italian
Avg. Check: $30 - $40
Attire: Casual Neat

When the neighborhood institution of Grace's Marketplace opened it's adjoining trattoria 6 years ago, the Doria family set out to allow it's immense customer base to enjoy their fresh food in a formal restaurant setting. Consisting of two large rooms, the front "bar room" welcomes guests for both the lunch and dinner service. The dining rooms are ensconced in layered brick, adding charm to the already warm and welcoming space. Curtains hang from the large windows in the back room, and pictures of the Doria family, spanning generations, adorn the walls.

Executive Chef Joseph Trama's Southern Italian cooking has given diners in this rustic, Old World environment a taste of life in the old country. Honing his skills at other top New York City eateries, Chef Trama is quick to recommend his house specialties of Fettucini with lobster, herbs, and wild mushrooms, and his Chilean Sea Bass, cooked in an olive-plum tomato sauce. There is also a wide range of homemade brick oven pizzas, as well as an extended selection of grilled steak and chops that compliments the menu's diversity. The dessert menu offers something for every palate, whether it be the warm pecan square, deep dish apple pie, or the chocolate banana tart with caramel gelato. A selection of wines from Italy and New Zealand round out the dining experience.

Grace's Trattoria, while largely neighborhood based, has recently become more of a destination spot for all New York City diners.
PRIVATE PARTIES; OUTDOOR DINING; OFF PREMISE CATERING; HANDICAP ACCESSIBLE

RESERVATIONS
Suggested

CREDIT CARDS
Amex, Visa, Mastercard, Diners Club, Discover

HOURS
Lunch
7 Days 11:30 - 3:30

Dinner
Sat. 5 - 10:30
Weekdays 5 - 10