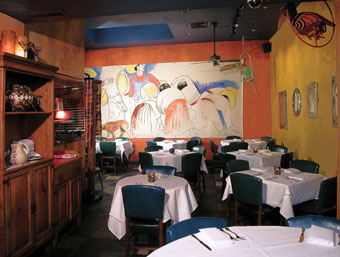 Zocalo
174 East 82nd St.
(bet. 3rd & Lex.)
212-717-7772

Grand Central Station
Lower Level
(42nd St. & Vanderbilt Ave.)
212-687-5666
www.zocalo.us



Appetizers
Guacamole - fresh & chunky, served with warm handmade corn tortillas
Mejillones en Caldo de Chipoltle - Prince Edward Island mussels steamed in a chipolte broth & served with grilled garlic toast
Ensalada del Zocalo - organic romaine lettuce tossed in avacado dressing, topped with crisp tortilla strips, queso fresco, sesame seeds, slivered almonds & ancho chile
Quesadillas de Pollo - marinated chicken & roasted chiles with Mexican cheeses, griddled in handmade tortillas
Clalmares Salteados en Caldo - sauteed clalmari with Spanish chorizo, white beans, piquillo peppers, grilled bread
Tamalitos de Pato Barbacoa - tender barbequed duck tamales with a mango - habanero mojo

Entrees
Tampiquena - grilled chile rubbed skirt steak with well fried beans, guacamole & wine cured goat cheese enchilada
Costillas de Puerco en Salsa Chipotle - Organic pork ribs, slow cooked in banana leaves
with smoked jalapeno barbeque sauce, charros,
& crisp onion rings
Tacos Asados de Mahi Mahi - grilled & marinated with citrus cucumber relish & guacamole
Camarones al Ajillo - sauteed jumbo shrimp with slivered garlic, toasted guajillo chiles & orange zest in spicy shrimp broth
with arroz canario
Atun Asado a la Veracruzana - seared rare yellowfin tuna with lemon herb scented salsa Veracruzana
Enchiladas de Pollo Estilo Navidad - slow roasted chicken rolled into white corn tortillas baked in tomatillo & guajillo salsas with queso chihuahua



Cuisine: Regional Mexican
Avg. Check: $30 - $35
Attire: Casual Neat

Zocalo is a high-energy regional Mexican standout that has Upper East Siders coming back on a regular basis for seven years. The multicolored walls are trimmed with Mexican folk art, and the grand skylight in the dining room hovers over a brilliant mural displayed on the back wall. The open kitchen overlooks the dining area, which allows diners to encounter the pleasingly robust scents that emanate.

Owners Bob and Laura Shapiro offer guests and regulars an enlivened dining experience through their menu, which the New York Times called "serious Mexican food". The Costillas de Puerco en Salsa Chipotle - Organic pork ribs, slow cooked in banana leaves with smoked jalapeno barbeque sauce, charros, and crisp onion rings - may very well be the best ribs in town. New dishes are offered weekly, which keep those in the neighborhood coming back time and again.

Zocalo is proud to offer over 50 choice tequilas - "almost every legal brand available in the U.S.", quip the owners. Sunday and Monday nights have come to be known as "Margarita Nights", with drink specials all evening long. Be sure to try the Blood Orange Margarita, which Bob states has become "world famous on the Upper East Side". The Daily News declared Zocalo's Margaritas the best in New York City. A large selection of Mexican beers adds to the authenticity of it all.

Zocalo's success is largely contributed to its friendly, caring, and entertaining service, and offers great food, with
no pretension.When in Midtown please visit the Grand Central location which is proud to offer the same great food found at the East Side location.
MARGARITA MONDAYS; PRIVATE PARTIES; ON AND OFF PREMISE CATERING; OUTDOOR DINING; TAKE OUT; HANDICAP ACCESSIBLE

RESERVATIONS
Suggested

CREDIT CARDS
Amex, Visa, Mastercard, Diners Club, Discover

HOURS
Dinner
Fri. - Sat. 6 - 11:30
Sun. - Thurs. 6 - 11