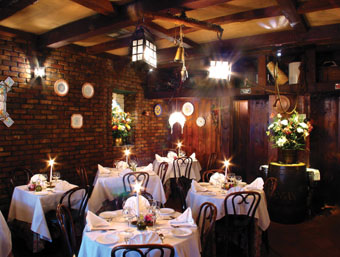 Erminia
250 East 83rd
(bet. 2nd & 3rd)

212-879-4284



Antipasto
Mozzarella Erminia - homemade mozzarella
with roasted peppers, sliced tomatoes & house dressing
Carciofi alla Giudia - artichokes sauteed
in olive oil & garlic
Zuppetta al Sapori di Mare - seafood soup

Pasta
Orecchiette Erminia - small shell with sausages & broccoli sauce
Farfalle Capriciose - spaghetti with Gaeta olives, julienne veal, capers, garlic & a touch of tomato sauce
Rotolo di Pasta - rolled homemade pasta filled with spinach, ricotta & mozzarella on a bed of tomato sauce
Pappardelle alla Campagnola - homemade noodles with artichokes, sausages, porcini mushrooms & chopped tomato
Fettuccine alla Boscaiola - homemade fettuccine with shitaki mushrooms, shallots, sage & chopped tomatoes

Carne
Scaloppine di Vitello alla Erminia - veal scaloppine sauteed with shallots, shitaki & porcini mushrooms, in a white wine sauce
Pollo Rollatino - rolled chicken breasts filled with eggplants, prosciutto & shitake mushrooms in a white wine sauce

Pesce
Zuppa di Pesce - combination of lobster, snapper, scampi, calamari, clams & mussels in a marinara sauce

Grigliata
Spiedino di Pesce - skewer of lobster, scampi, swordfish & calamari served with clams & mussels oreganata



Cuisine: Italian, Roman Influence
Avg. Check: $45 - $50
Attire: Jackets Optional

Erminia, opened nearly 23 years ago, is New York City's most romantic restaurant. Obtaining some of the Zagat Survey's most highly rated scores for food, service and décor each year, the Lattanzi family's Roman influenced Italian food is second to none on the Upper East Side. Forbes Magazine twice selected Erminia as its number one Top Pick for food, and most diners agree that the original concoctions prepared here will win the hearts of all who come to experience the fare.

The Swiss Alps cabin-like atmosphere accents the rustic feel at Erminia, complete with old farming tools stowed away in the faux attic above the dining room. Candles and flowers at every table and dimly lit chandeliers add to the romance, making this New York's number one choice for Valentine's Day dinner.

As there is only a small amount of seating, each diner is personally greeted by gracious host Nikola, who attends to his guest's every culinary need. All pastas, such as the "Orecchiette Erminia" - small shells with sausages and broccoli sauce, and the "Fettuccine alla Boscaiola" - homemade Fettuccine with shitaki mushrooms, shallots, sage and chopped tomatoes - are made in-house and are original "Lattanzi recipes". Erminia is proud to open its doors on Sunday evenings, by special request, should you have a private occasion you would like to celebrate.

Proposals seem to come nightly, and couples who have started their romance here come back year after year to celebrate their anniversaries and birthdays at Erminia - the most special of places.
PRIVATE PARTIES(SUNDAYS); ON PREMISE CATERING

RESERVATIONS
Required

CREDIT CARDS
Amex

HOURS
Dinner
Mon. - Sat. 5 - 11
Sunday - Private Parties