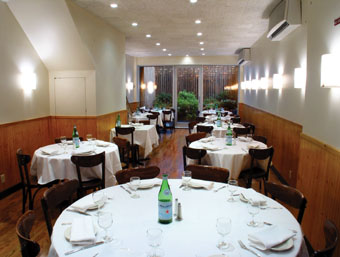 Il Vagabondo
351 East 62nd St
(bet. 1st & 2nd)

212-832-9221
www.ilvagabondo.com



Veal Parmigiana - Breaded veal cutlet with tomato sauce, muenster & parmesan cheese

Veal Chop - Broiled to order

Veal Nodino - Broiled loin of veal
with sauteed mushrooms & Port wine sauce

Veal Magenta - Breaded veal cutlets
layered with prosciutto & cheese in mushroom sauce

Veal Osso Buco - Braised shank of veal with risotto

Chicken Parmigiana - Lightly breaded breast of chicken with tomato sauce, muenster & parmesan cheese

Sauteed Chicken with Artichokes - Sauteed in olive oil, garlic & white wine

Chicken Scarpariello - Boneless white & dark meat sauteed with garlic, olive oil & rosemary

Chicken Cardinale - Breast of chicken sauteed with shallots, white wine, touch of tomato-topped with prosciutto, roasted pepper & mozzarella cheese

Prime Sirloin Steak - Broiled to order

Risotto with Wild Mushrooms - Arborio rice with portobello mushrooms, shallots & fresh herbs

Fettuccine Adriatica - Fettucine with sauteed shrimp, shallots, tomato, white wine & basil



Cuisine: Northern Italian
Avg. Check: $25 - $30
Attire: Casual Neat

Opened in 1965, Il Vagabondo Restaurant has become a landmark to many New Yorkers. As history has proven, this Northern Italian may be the most reliable restaurant on the East Side. The open kitchen, which was the first of it's kind, is located in the main dining room and offers diners an insight into how an efficient restaurant is run.

Considered by many to have the city's best Veal Parmigiana, Il Vagabondo is able to please guests on many levels. Executive Chef Gian-Franco Grancelli has created a menu of classics that include all of the staples of a hearty Italian diet. Veal Nodino - broiled loin of veal with sautéed mushrooms and Port wine sauce is a "must have", and the Risotto with Wild Mushrooms - Arborio rice with portobellos, shallots and fresh herbs is a sure crowd-pleaser as well. With various nightly specials to choose from, Il Vagabondo satisfies all that come to dine.

What separates this restaurant from every other in New York City is the indoor bocce court, which is free to all customers. The court sits along side one of the four dining rooms, and many neighborhood notables have been known to take part in the action. A look at many of the old photos that adorn the walls will give you an idea of who has stopped by in the past!

Il Vagabondo places a heavy emphasis on value, and one will find that the generous portions of high quality food perfectly meet guest's needs. This is an exciting restaurant from where you can both indulge in great food and experience the high energy of bocce ball. Either way, there is something for everyone to enjoy.
INDOOR BOCCE COURT; TAKE OUT; PRIVATE ROOMS; PRIVATE PARTIES

RESERVATIONS
Parties of 10 or larger

CREDIT CARDS
Amex, Visa, Mastercard, Diner's Club, Discover

HOURS
Lunch
Mon. - Fri. 12 - 3

Dinner
Mon. - Sat. 5:30 - 12
Sunday 5 - 11