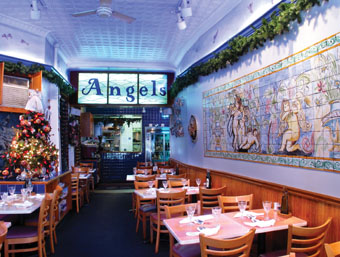 Angels
1135 1st Ave.
(bet. 62nd & 63rd)

212-980-3131
www.angelsnyc.com



Homemade Breads
GORGONZOLA BREAD - A loaf of toasted garlic bread served in a pool of gorgonzola cream sauce for dipping.

Zuppa
MINESTRONE GENOVESE - Fresh vegetable soup from natural stock w/beans & pasta topped w/a spoon of fresh basil pesto

Insalata
INSALATA CAPRICIOSA - Strips of char-grilled chicken filets, fresh & smoked mozzarella, tomato, roasted peppers on a bed of radicchio, endive & mixed field greens

Hot Appetizers with Hot Sauce
FRIED CALAMARI
MUSSELS with red or white sauce

Entrees

Angel Wings
SAN BIAGIO - Farfalle pasta (bowties) with asparagus, sun dried tomatoes, basil, garlic, shallots, white wine, & fresh chopped tomatoes in extra virgin olive oil

Gnocchi
GNOCCHI GORGANZOLA - Potato dumplings made with gorgonzola (Dolce) cheese, a mild bleu cheese from Italy with garlic, cream, peas & parsley, dusted with parmigiano

Angel Hair
SAN BENEDETTO - Fresh angel hair pasta with jumbo shrimp & lobster pieces in a creamy lobster sauce finished with cognac

Pollo in Padella
POLLO ALLA DIAVOLO - Boneless chicken breast egg coated & sauteed in a hot & spicy sauce of butter, lemon, white wine
& Italian hot pepper rings served with linguine
CHICKEN PORTOBELLO - Scallopini of chicken sauteed in a demi-glaze sauce with white wine, Italian wild portobello & thinly sliced mushrooms
Seafood Pasta Specialties
CIOPPINO DI PESCE - Shrimp, lobster, scallops, clams, mussels & available frutta di mare, sauteed in a seafood court bouillion with garlic, red pepper, fresh tomatoes, white wine, broccoli & served over linguine
PASTA PAELLA - Rice-shaped orzo pasta with shrimp, scallops, chicken, lobster, clams, mussels, sausages with scallions & peppers in a saffron & tomato infusioned broth with herbs & spices



Cuisine: Northern & Southern Italian
Avg. Check: $15 - $20
Attire: Casual

The theme at Angels restaurant is fairly obvious the minute you walk through the front door. The heavenly atmosphere, complete with murals of glorified spirits, creates a cherubic charm that has comforted diners at this Italian mainstay for the last 14 years. Every corner of the eatery is decorated with angels, from the tabletops to the decorative "angel tree" that sits upon a pedestal in the main dining room.

Angels restaurant takes pride in its homemade dishes. Everything from the Gorgonzola Bread appetizer to the Fresh Strawberry Romanelli dessert is made on premises. An extensive menu, complete with almost any Italian dish imaginable, is value oriented, as most customers take home much of their over-sized portions each night. Fresh pastas, such as the San Biagio - farfalle pasta with asparagus, sun dried tomatoes, basil, garlic, shallots, white wine, and fresh chopped tomatoes in extra virgin olive oil, and the Melanzane Sorrentino - slices of eggplant layered with ricotta cheese, spinach, plum tomato sauce and melted mozzarella cheese are two popular favorites.

Around the corner from the main restaurant is "On the Wings of...", the successful catering arm of Angels. The talented staff is available to prepare various menus for any corporate or private function. Hot and cold sandwiches, along with healthy salads and freshly baked desserts are available as well.

Gourmandise Magazine dubbed Angels restaurant "Paradise found!" Valued as one of the best deals on the Upper East Side, few eateries in the area can assure guests the romance and charm found here.
FIXED PRICE MENU; TAKE OUT; PRIVATE PARTIES; PRIVATE ROOM; ON & OFF PREMISE CATERING

RESERVATIONS
Suggested

CREDIT CARDS
Amex, Visa, Mastercard, Diner's Club, Discover

HOURS
7 Days
11:30 AM - 11:30 PM