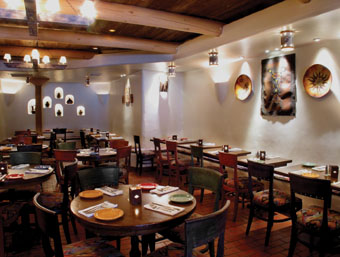 Cilantro
244 East 79th St.
(bet. 2nd & 3rd)
212-537-7745

1321 1st Avenue
(at 71st)
212-537-4040

1712 2nd Avenue
(bet. 88th & 89th)
212-722-4242
www.cilantronyc.com



Appetizers
Crispy Blue Corn Calamari
With Spicy Tomato Sauce
Aztec Nachos
Monterey Jack Beans, Jalapenos, Pico de Gallo, Guacamole & Sour Cream
Quesadillas
Spicy Chicken & Corn Salsa Or Wild Mushroom & Onion

Salads
Chopped Salad
Romaine, Cheddar, Monterey Jack, Beans, Tomatoes, Cucumbers & Red Onions
Tostada Salad
Crispy Corn Tortilla, Black Bean Puree,
Queso Fresco, Mesclun Greens & Spanish Olives

Southwester Specialties
Fajitas
Chicken
Adobo Steak
Tequila Shrimp
Grilled Vegetable

Enchiladas
Chicken Blue Corn Tortilla served with Red Chili Sauce, Spanish Rice & Black Beans

Pescados
Ancho Crusted Yellow-Fin Tuna Steak
Garlic Mashed Potatoes & Black Bean Mango Salsa

Swordfish Veracruz Style
Served With Cilantro Rice

Market Fresh Fish Tacos
Served With Cilantro Rice & Black Beans

Carnes
16oz Porterhouse Steak
Chipotle Mashed Potato

Grilled Double-Cut Pork Chop
Roasted Corn Salsa & Chipotle-Sweet Potato Gratin



Cuisine: Southwestern / Mexican
Avg. Check: $20 - $25
Attire: Casual

Southwestern Mexican fare has found a new home on the Upper East Side. Cilantro restaurant has recently opened its third branch, much to the delight of its devoted clientele.

Cilantro opened its first location at East 89th Street in September of 1998. Among its many wonderful features is a rustic, secluded dining room, which leads out to a cozy, romantic garden. The authentic atmosphere creates the perfect escape from the busy flow of the Upper East Side.

Cilantro at East 71st Street sits at the intersection on First Avenue, and has been serving the public since September 2001. This location boasts an impressive sidewalk café and windowed doors that wrap around the exterior of
the restaurant, creating one of the most popular summer hangouts in town.

The newest location, situated on bustling 79th Street, keeps up with the popular theme that many have come to enjoy. Decorated with Mexican folk art and colorful pottery, the ambiance is a fine representation of the fresh food to come. Specially created dishes, such as the Ancho Crusted Yellow-Fin Tuna Steak served with Garlic Mashed Potatoes and Black Bean Mango Salsa round out an impressive selection of fresh fish dishes. The ever-popular Fajitas, available with Chicken, Adobo Steak, Tequila Shrimp or Grilled Vegetables are and will always be among the best in the area. Patrons can enjoy the fresh fare in their own homes, as Cilantro is proud to deliver to all in the neighborhood.

With daily food and drink specials at all three locations, Cilantro has made its mark as an affordable family oriented neighborhood establishment.
TAKE OUT; PRIVATE PARTIES; PRIVATE ROOMS; ON PREMISE CATERING; OUTDOOR DINING; HANDICAP ACCESSIBLE

RESERVATIONS
Suggested

CREDIT CARDS
Amex, Visa, Mastercard

HOURS
Lunch
Mon. - Fri. 12 - 4
Sat. - Sun. 11 - 4

Dinner
Mon. - Sat. 4 - 11
Sunday 4 - 10