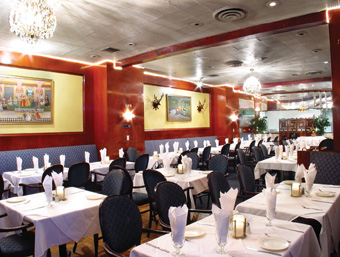 Malika
210 East 43rd St.
(bet. 2nd & 3rd)

212-681-6775
www.malikas.com



Tandoori Specialties
Kandhari Chicken - bonless chicken marinated in skim milk, yogurt, ginger, garlic, black pepper

Kandhari Lamb Chop - marinated in garlic, lemon juice, yogurt & very mild spices

Malai Kebab - bonless chicken breast with herbs, spices and a touch of mace

Tandoori Prawns - succulent jumbo prawns

Chicken Specialties
Chicken Tikka Masala - bonless chuncks of chicken simmered in aromatic tomato sauce, herbs & fresh spices

Chicken Vindaloo "Goa" - succulent pieces of bonless chicken cooked with potatoes, garam masala, chilies, fresh garlic & ginger

Chicken Korma Kashimiri - bonless chicken cooked with pineapple chunks, almond, raisins & light spices

Lamb Specialties
Lahori Balti Gosht - chuncks of lamb or goat cooked with fresh ginger, garlic, coriander & tomatoes served in individual baltis

Rogan Gosht Kashmiri - tender pieces of lamb cooked in onion based curry with yogurt & Malika's special spices

Lamb Bhuna Hyderabadi - succulent lamb cubes cooked with freshly chopped tomatoes, garlic, ginger & hyderabadi spices

Seafood Speacialties
Prawns Vindaloo "Goa" - cooked in a thick and hot curry sauce

Bombay Fish Curry - fish of the day smothered with curry made with freshly ground coconut and spices

Vegetarian Specialties
Karhai Paneer - diced pieces of homemade cheese cooked in karhai with fresh ginger, garlic, bell pepper tomatoes & spices



Cuisine: North Indian, Mughlai
Avg. Check: $25-$35
Attire: Casual Neat

Malika, the "Queen" of Indian cuisine, features an authentic menu that represents the specialties of many cities in India and throughout Southwest Asia. From the fiery vindaloo dishes of Goa to the almond-flavored delights of Kashmiri mountain valleys, and from the tandoor-grilled flavors of old Peshawar to the caravan fare of Kandhar in Afghanistan - Malika highlights the best each region has to offer. For the seafood lover, try the spicy Prawns vindaloo "Goa", cooked in a thick and hot curry sauce. Numerous vegetarian specialties include the popular Karhai Paneer - diced pieces of homemade cheese cooked in karhai with fresh ginger, garlic, bell pepper tomatoes and spices.

Owned and operate rated by Mrs. Malika, a traditional Indian house wife, guests are treated like members of her family, complete with attention to detail, creating the ultimate Indian experience. Authentic artwork and music will bring the experience full circle.

Malika offers a well-selected wine list imported exclusively for your pleasure. The management is happy to recommend wines that complement Indian spices and curries. The restaurant also boasts specially brewed Indian beer and an enticing selection of specialty cocktails.

The restaurant is proud to offer it's facilities for weddings, banquets and office parties. The large space can accommodate up to 500 people, complete with a dance floor and full service bar.

Embark on an appetizing sojourn through the tastes of India, Pakistan and Afghanistan at Malika, an exclusive Indian restaurant.
PRIVATE PARTIES; OFF PREMISE CATERING; LUNCH BUFFET; PRE-THEATER MENU; COOKING CLASSES; DELIVERY; HANDICAP ACCESSIBLE

RESERVATIONS
Suggested

CREDIT CARDS
Amex, Visa, Mastercard, Diners Club, Discover

HOURS
Lunch
Mon.-Fri. 12-3

Dinner
7 Days 5-10:30