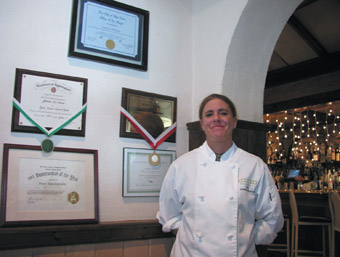 December 24, 1980: For the first time since arriving, the guests in the small house in Bayside were silent. Food had been served
and the close-knit family gathered for what had become an annual tradition. Grandmother Nonnie had been cooking for days but remarkably, all the food would be gone within the hour. Or at least most of it. It seemed a little extra was always prepared, just in case! "Nonnie showed us love in so many ways," Jeanine DiMenna recalls. "One was to make sure we were always well fed!"

Jeanine has many fond memories of family from childhood, but not all aspects of her formative years were as favorable. Nowadays, children with learning disabilities are identified early
and educated appropriately. But when Jeanine was growing up, such special needs were often missed. By the time her unique requirements were addressed, she had developed a negative
attitude toward all things school related.

Even though Jeanine rarely applied herself in the classroom, she was always a go getter when it came to working. At 14, she collected golf balls at the driving range at the community course
in Glen Cove. And once she completed her day's labor, she'd "shoot the breeze" with friends in front of the course's restaurant, the Tiffany House. But restaurant owner Charlie Santos wasn't thrilled with the meeting place the teens had chosen. "He was always chasing me away, telling me to hang out elsewhere,"
Jeanine remembers. "Finally, he threw in the towel and hired me to wash dishes."

Jeanine was at home in the kitchen from day one and before long was helping out on the line. But high school was done and she knew she had decisions to make regarding her future. She chose to study restaurant management at Nassau Community College, but her commitment didn't last long. "I hated school and just couldn't get myself to study," Jeanine explains. "I got poor grades and wound up dropping out. But cooking, well, that came naturally to me."

By 1984, Jeanine had risen through the ranks and was the Chef at the Tiffany House. The next logical step was cooking school. But Jeanine had her reservations. "I simply wanted no part of books and studying," she recalls. "Schools like CIA (Culinary Institute of America) are based heavily on theory. I just wanted to cook!" Fortunately, Jeanine's aversion to school was about to change.

"My future mother-in-law found out about the Culinary Arts Program at New York Tech," Jeanine explains. "It was a hands on curriculum based on developing practical skills. I loved it!"

NYT helped Jeanine grow as a chef, but she also had to move on to bigger things professionally. With trepidation, she left the Tiffany House in 1986 and began an 11 year tenure at the Harrison Conference Center, a corporate facility noted for strict attention to detail. Jeanine moved up through the ranks and was promoted from line cook to Garde Manager Sons Chef in 1990. But, again, the time would come when her professional development would require further change.

"I learned a lot at the Harrison House, but I had reached a plateau," Jeanine remembers. "It was time to go back to the small restaurant setting." Jeanine began as Assistant Chef at Page One Restaurant in Glen Cove in 1997 and was promoted to Executive Chef within a year. Partial ownership followed shortly thereafter.

Jeanine's Page One resume speaks for itself. She brought home top honors in the Gold Coast Chowder Challenge at Americas' Sail '98 and appeared with her prize winning creation (Roasted Long Island Corn Potato and Crayfish Chowder) on WABC Eyewitness News. The restaurant was rated "Very Good" by the New York Times, with Jeanine's cooking described as "exciting" and "eclectic."
And Zagat labeled Jeanine "a winner," her dishes "excellent" and "innovative", and Page One an "up and coming" establishment on the Long Island restaurant scene.

Chef Jeanine DiMenna's list of accomplishments is as diverse as it is long. From prize winning ice carvings (third place for "Most Original Piece" in the freestyle class at the 1989 WPLR
Ice Breakers competition) to two-time runner up in the Annual Salon of Culinary Art "Sugar Act" category (1994 and 1995), Jeanine has consistently made her mark. She has appeared on Food TV's Ready, Set, Cook and has also done cooking demonstrations on News 12 Long Island and WLIW. And recently, she was named Food Editor for Best Body magazine, a women's fitness periodical that will be launched in 2005. But with all her success, Jeanine remains humble. She doesn't cook to make her wallet fat or inflate her ego. In fact, she is often embarrassed by the accolades she receives. Like the grandmother she loved so dearly, Jeanine's actions in the kitchen come from the heart. And it shows in all of the culinary masterpieces she creates.