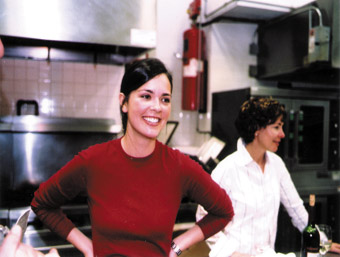 Practically raised in her grandmother's Southern kitchen, Katie Lee's passion for cuisine started at an early age. From a family who planned their day around dinner's menu, it is no surprise that Katie's path led her to a career in the food industry.
Currently, Katie is co-creating the website www.oliveandpeach.com with partner Aleishall Girard. The site focuses on food and aims to provoke readers to think more deeply about what it is they are consuming and intends to heighten awareness about the importance of "conscious consumption".
Putting her culinary expertise to use, Katie recently served as a judge for the Food Network's Iron Chef America which will air in the upcoming fall season. She has also appeared on Life and Style, the television pilot A Matter of Taste with celebrity chef David Rosengarten, and has been featured in publications like People and In Style.
Katie has worked in several restaurants and gourmet food and wine stores. In 2003, she helped to open Jeff and Eddy's Restaurant, one of the hottest dining spots in the Hamptons. There she served as the house fishmonger. Katie received her bachelor's degree in English and journalism at Miami University in Oxford, Ohio. She also studied in Florence, Italy at the British Institute. She has since returned to her classroom in Italy to teach American students about dining in Tuscany.
Outside of her culinary adventures, Katie enjoys spending her time in her garden, exercising and playing with her two pugs. She resides in the New York area with her husband, musician Billy Joel.

Where are you from?
Huntington, West Virginia
How does that influence your cooking?
We used simple, fresh ingredients - real country cooking. It was an incredible experience to grow up with food like that. A family member had a farm. We got all our meat from that farm. Who was your biggest influence? Why?
Grandma & Grandpa. We had all meals with them. They lived close by. During the meal all we ever talked about was food and what our next meal would be. I'd like to think I have my grandma's touch.

What is your favorite cuisine?
I LOVE LOVE LOVE Italian food! also, Asian food. And all Ethnic foods.

Do you have any comfort foods?
Growing up in West Virginia, I had the ultimate comfort food. I'd have to say biscuits and gravy, chicken and dumplings, and meat loaf. Here and now - it's take out from Hunan Taste.

What's your favorite food to munch on?
Pop corn and ice cream. In that order. First I eat the salty then I need the sweet. I love ice cream from Graeter's in Ohio - hand made and hand packed and they do mail order. I found them when I was in college, Miami University near Cincinnati. My favorite is mint chocolate chip.

What are you favorite dishes to cook?
In the summertime I love to pick tomatoes from the vine and peppers from my garden and make gazpacho or sauce.

What is your favorite meal to prepare?
Thanksgiving meal. I love Thanksgiving. It's my favorite holiday because it's all about food and eating. I make my turkey with butter and sage under the skin and baste it with maple syrup.

What is the best dish you ever prepared?
My husband would say it's my meat loaf. Bill loves my meat loaf. What's your secret? My secret is tomato relish mixed in and on top. I make a great pesto, and sweet and sour shrimp, using all fresh ingredients, of course.

What is a typical everyday meal?
First a salad with a simple vinaigrette - a top notch olive oil and red wine vinegar; fresh fish and steamed asparagus. Bill goes down to the front of our house where the clammers are digging on Oyster Bay and buys clams. And ice cream for dessert, of course. Simple and fresh tastes best.

What foreign countries have you eaten in?
I studied in Florence while in college and traveled to Switzerland, France, Greece, Germany and Austria. I don't think you could have a bad meal in St. Barts. Maybe because it's a French Island with all those French chefs. We ate in a restaurant called Viet Nam. Bill said they made the best wontons he ever had.

How does their cuisine compare with our version?
When I lived in Florence, I realized what real Italian food was. Until then I thought Olive Garden had real Italian food.
I love Tuscan food because of its simplicity.

What are your favorite restaurants? LI? NYC?
Hands down, Sant Ambroeus in Southampton. Every meal there is perfect. Whenever I walk through the doorway I feel like I'm in Milano. It's always consistent and they have great gelato and the best capuccino outside of Europe. In NYC, I'd have to say Nobu. It's also consistent and very exciting with all the different flavors. It's the freshest fish you can get. Sometimes we eat there three times a week.

Do you watch cooking shows on TV? Favorites?
Oh yes! Constantly! I like all the Italian ones.

Did you ever take cooking classes?
Yes in Europe, and of course in grandma's kitchen. I took food science courses in college.

Who would you most like to cook for?
(with a big grin) Oprah! She's such a good person. She's done so much for so many people. I'm a huge Oprah fan. I would love
to cook for Oprah.

Who would you most like to cook with?
I would have liked to cook with Julia Child. She was one of the pioneers of food TV. And a great chef with a great sense of humor.

What is the largest number of people
you ever cooked for?
Fifty. We had a party in the house. I cooked for two days and
pulled it off without a hitch!

What would you prepare for a dinner party?
Salmon. I love salmon. When I was in high school and we were having company for dinner my mother would ask me to make salmon. I covered the fish with herbs and olive oil and wrapped it in newspaper. I served it on a slab of wood. It made quite a presentation. Unwrapping the newspaper, letting all the steam out.

How was your experience on the Iron Chef as a judge?
Oh, it was fun! I had a blast! I did a lot of eating. And how do you tell the great chefs you don't like somethingthey made? I would love to do it again.

Are there any foods you don't eat?
Um, not really. I don't eat much meat. I stay away from processed foods and eat mostly organic. I love ALL fruits and vegetables. I never met a fruit or vegetable I didn't like.

How did you get interested in organic food?
Recently I began reading about preservatives, genetically altered foods, pesticides and what that does to us and to the environment. And to future generations. It's really scary - we don't know what we're eating.

Tell me about your website?
www.oliveandpeach.com I started it with a college friend, Aleishall Girard. She trained at Le Cordon Bleu in Paris and went to cooking school in Tuscany. She's part Italian and part Lebanese. I'm from the south, so we call it olive and peach. It's for people who enjoy food. Conscious consumption - If you are what you eat then you should know what you are eating.

What's the most unusual (exotic) food you ever ate?
White truffle. It's a wonderful delicacy. One of the most exotic and wonderful foods anyone can enjoy. I had it for the first time the night I met Billy.

Do you have a favorite market?
Wholefoods, Citarella, Green Wagon Market - they have Asian products you can't get anywhere else.

What do you look for when you eat in a restaurant?
Dishes that are well prepared, where everything goes together. Ingredients should compliment each other. I don't like food that's overdone. I like simple dishes. If I really like a restaurant I can't wait to go back and eat there again and again.

Would you like to own your own restaurant one day?
NO! definitely not. When I was in college I used to go to a little gourmet sandwich shop and I thought that it would be fun to own one.

What about the menu for your wedding? What kind of food did you have?
We both love Tuscany so we decided to have a Tuscan theme. We had a tent set up in the backyard that looked like a Tuscan farm house. People actually thought it was part of our house. It looked so authentic. We wanted the food to follow with the theme. A friend of ours, Chef Michael Schlow came in from Boston three times before the wedding so we could taste the food. They set up different food stations. Meat, cheese, seafood, and a big dessert station. Sylvia Weinstock made our wedding cake. It was chocolate because I love chocolate, even though I know traditionally a wedding cake has white icing. The whole wedding embraced our lifestyle and our feelings for each other.