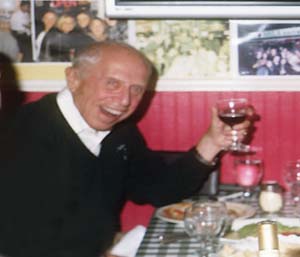 Independence! Almost everyone wants it; the ability to make your own decisions, to give the orders rather than take them, to be the employer rather than the employee. Chefs are no exception. Most of them want to own their own restaurants, to try their culinary wings. They want to be chef-owners. That's easier said than done.It takes a certain combination of disparate, unrelated skills; not just the cooking ability needed to be a kitchen commander but business acumen and the ability to recruit, hire, train and manage a staff. Just a few would-be owners possess all these diverse qualities. Some of their stories follow.

Some children want to become ballplayers, astronauts or policemen, not Mitchell SuDock. He always knew he wanted to cook, to be in a restaurant. As a child, he and his brother were the family's waiters. He watched his mother cook dinner and watched cooking shows with his dad. His mother would call from work and have him start dinner. Although he majored in
economics and minored in computer science at SUNY, Albany, Mr. SuDock always knew he belonged in a restaurant.
He worked in chain operations during college, went to the Culinary Institute of America, did his externship at the Russian Tea Room, worked at Judson Grill, Ansonia, Gotham Bar and Grill and Gramercy Tavern in Manhattan and was chef de cuisine for three years under Guy Reuge at Mirabelle in St. James.
Now, as the chef-owner of Bistro M in Glen Head, he realizes it's more than just cooking and food cost. "There's insurance,
utilities, garbage pickup, linen, sales tax, income tax" etc. Yet, he's successfully guided Bistro M to excellent ratings in the New York Times and Newsday as well as a 25 for food in the Zagat Survey. He says,"My love of food is really what drives me". And what about the future? He wants to own one or more, larger (150-200 seats) restaurants. Don't bet against him.

Michael Cacaro, the chef-owner of Fulton & Prime, was born into the restaurant business. As he says, "For me there was really not much of a choice to be made." His father purchased Manero's Steak House in 1979. At the tender age of 12 he went to work there as a weekend busboy. At 15 he went to work in Manero's under the guidance of a veteran chef who
taught him the culinary ropes. He continued his self-education by immersing himself in cookbooks and applying the techniques he learned.
He also learned that "The main ingredients for success are hard work, dedication and never losing sight of the fact that everything we do should lead toward creating a better experience for the customer. Without the customer we have no business."
At Fulton & Prime Mr. Cacaro's wife runs the restaurants wine program and services systems and he runs the kitchen and food purchasing. Both of them strive to set Fulton & Prime apart from large chain steakhouses. He particularly enjoys serving foodies because "they know we try to put the highest quality products on the plate." And if he had to pick one person to serve it would "be my father."
Ten years down the road he and his wife would like to add "a family style Italian restaurant and maybe a burger joint."

When Nicholas Litterello, the chef and owner of the four-year-old Blue Room in East Northport, was a little child he used to watch his great grandmother cook home made pastas.
In 5th grade he took cooking classes. After graduating from the Culinary program at the New York Institute of Technology, this native Long Islander did his externship at Panama Hattie's where he remained for nearly seven years working at every station in the kitchen. From there he went to Bongo Bay in Port Washington where he worked as a sous and pastry chef before becoming its executive chef. His cooking was also influenced by traveling to Italy where he was struck by the overall high quality of the ingredients and the simplicity of the dishes "quite different than the menus at Italian restaurants in the United States" he says. At the Blue Room, a casual laid back kind of place Litterello keeps his menu simple and understandable. "I'm not into fancy," he says. But he is into southern, especially Cajun dishes, a number of which he features.
He credits Richard Gertz, his boss at Panama Hattie's for giving him his first opportunity and teaching him the business side of running a restaurant. As a result, he keeps a sharp eye on everything from the food and wine to the look of the menus and silverware as well as making sure that the staff gets along with one another and serves the diners well.

I treat everyone like family members. They pay the bills and they keep the business going." That in the proverbial nutshell is Matthew Treanor's philosophy. Along with Brian Connelly, the restaurant's manager, he owns the Ludlow Bistro in Deer Park. Like his counterparts, he enjoys the freedom to make his own decisions, to finally have everything done his own way. He also relishes the challenge of starting everything from scratch.
Mr. Treanor, who prepared himself for his present ownership post at Johnson and Wales Culinary School as well as at various Manhattan and Long Island restaurants, has at least two hopes for the future. He'd like to have the opportunity to serve other great chefs and restaurant owners and like so many of his compatriots, wants to own "a few more operations."

Jonathan Passman is the Executive Chef at the Bedlam Street Fish and Clam Company in Cold Spring Harbor but the restaurant is very much a family affair. Like almost every chef, Mr. Passman, a CIA graduate with extensive experience in Manhattan, Long Island and Hudson Valley restaurants, always dreamed of owning his own place. He got that opportunity when the six year old Bedlam Street Restaurant became available last year and along with his family, bought it. Recently he explained his family-centered philosophy, "I feel that a strong family structure around the business is the only way to be successful. Everyone in my immediate family is involved in making this place happen. It allows for a nurturing atmosphere rather than the dog eat dog restaurant business we are all used to. Plus, I sleep better at night knowing they're around." He adds, "I think we have pretty good food too." Dr. Watson from the nearby Cold Spring Laboratory must agree because the man famous for his discovery of the double helix is a regular customer.
And to what does Mr. Passman attribute the success of Bedlam Street? First, "Location, location, location" and second, "if your unrelenting passion for the business doesn't shine through every day, people will begin to notice. I refuse to let that happen."

Jeanine DiMenna is the exception. Unlike her fellow chefs, she wasn't at all sure that she wanted to be a chef-owner. Now the top toque at Page One Restaurant in Glen Cove she said,
"I never wanted to have my own restaurant. I saw from a young age, working for a small Mom and Pop shop how they struggled."
So when she got her chance to be an owner, the best response she could muster was a dubious "maybe". Yet, after training at New York Tech and Continuing education at the Culinary Institute of America and the French Culinary Institute,
this self described "control freak" took the plunge along with Peter Antonopoulos, her co-owner. That was ten years ago. During that decade Ms. DiMenna's "passion and love for food and people" and her love of the restaurant business have made Page One a consistent success and established her as the Island's preeminent, longest running female chef. She believes in "treating people the way I want to be treated" and "being passionate about each plate." And who would she most enjoy meeting and serving? "Oprah Winfrey, the most accomplished woman I've seen."

Leisa Dent has paid her dues and loves her mother. Both of these factors led to the establishment of LL Dent, one of the very few southern restaurants on Long Island. The LL in the title refers to Leisa, the restaurant's chef and co-owner and her mother Lillian, her partner and co-owner.
They both are part of a food focused family. Their parents, grandparents and uncles were food service workers and according to Leisa "Big time cooks." So is she. After watching her down-home relatives cooking southern favorites during her summers in Georgia, Ms. Dent returned to New York to cook at Cookie's Steak Pubs, the Marriott in Uniondale, at the Marriott Marquis in Atlanta, the Marriott Corporate Kitchen, Eddie Murphy's Private chef and the U.S. Merchant Marine Academy.
Along the way she attended the CIA and in February 2006 opened LL Dent. Unlike most southern style New York restaurants, with voluminous menus, Ms. Dent limited hers to the most popular Deep South dishes (cat fish, pulled pork, grits etc.), in order to limit herself to only the freshest ingredients. She also has plans for the future that include two more LL Dents, one in Manhattan and another in Suffolk.
When Alejandro Gonzalez was growing up in Mexico City his father's work took him all around the country. Whenever it was possible, the young Alejandro accompanied him. The elder Gonzalez, an avid amateur cook, liked nothing better than listening to and talking to the good home cooks in the little villages they visited. He made a collection of the authentic, family recipes he picked up along the way and later passed them on to his son, Alejandro, who is now the chef and owner, along with his wife Maria, of the new Quetzalcoatl in Huntington. (The name means serpent with Quetzal feathers).
Mr. Gonzalez, who also owns the smaller Oaxaca Restaurant in Huntington, opened Quetzalcoatl because he didn't have enough seating for all the people who wanted to eat at Oaxaca. He is driven by his "love of Mexican traditions and respect for its food at both locations", in fact, "his favorite customers are the ones who are looking for authentic Mexican food." His philosophy is simple, "to be happy and make people happy with what I love to do, cook." Asked to what he attributes his success he replied, "My father told me the two main things in life are marry the woman you love and work at what you really like. I have both and it shows."

Just as there are bus drivers who ride buses on their days off, there are chefs who cook even when they are away from their restaurant kitchens. James Tchinnis, the Executive Chef
at Bistro 44 in Northport, is one of them. Mr. Tchinnis, who attended the French Culinary Institute and worked at various restaurants in New York City and on Long Island, cooks on his days off and on holidays as well. "Because", he says, "I love my job." Yes, he loves it so much he cooks when he's not on the job. In fact, he feels his passion for the restaurant business is what sets Bistro 44 apart from other restaurants.
Mr. Tchinnis, who has been a chef for fourteen years, along with his partners Joseph De Martino and John Petrusa, opened Bistro 44 in August of 2006. As with so many chef-owners, it's a dream come true for him. He says he always wanted "to open a restaurant and make people happy with my food."
He wants to make Bistro 44 "one of the most liked and respected restaurants in New York. We just want to send our patrons away with a full stomach and a smile."
And who would he most enjoy serving? "The chefs from the French Culinary Institute who taught me in the beginning."

Jacqueline Sharlup, the chef and owner of the year and a half old Tula Kitchen in Bay Shore is a woman with a mission. She worked her way through high school and college at local restaurants, unsure of what she wanted to do with her life until she came upon the Natural Gourmet Cookery School in New York City.
Her experience there acted as a focus, one that combined cooking and giving to others. Her father had died of cancer and she gravitated toward food and a way of life that contributed to healing and healthy habits.
After graduation she was the chef at an Island vegan restaurant, started a home delivery service of healthy meals, a muffin and burger business and a personal chef business. Then came Tula Kitchen with Ms. Sharlup, who says, "Food that nourishes every part of you."
She takes mainstream dishes and recreates them to be "part of an open-minded way of life." She adds "We bake everything and most of our dishes are dairy and wheat free. We are also organic and natural as much as we can be."
Tula Kitchen has become Jacqueline Sharlup's way of life, her home. Her office is her bedroom. Her employees are her relatives. Her dream about opening a restaurant has become a cause as well as a calling, one that hopefully leads to a better live for all involved.
Oh, yes, don't be surprised to come across some baby Tula Kitchens. She wants to open a number of them before escaping to her guacamole hut on a beach in Mexico.

Stuart Brown, the chef and owner, of On 3 in Glen Head, started early. He's been in the restaurant business since he was 15. Along the way he saw service in the kitchens and dining rooms in Philadelphia and Boston before coming to Long Island in 1999 to do a consulting job. He also has degrees from the University of Rhode Island (in business administration) and the Culinary Institute of America.
At each stop, Restaurant Taquet, a four star French spot in Philadelphia and Ritz Carlton Hotels in Boston and Philadelphia, he was fortunate enough "to work for people who had been passionate about food and wine." His training at the Ritz Carltons had an especially profound impact on him and to this day he tries to live up to their credo "exceed expectations." All of his education and experience have been put into play at On 3 which opened (appropriately) in 2003. He feels "we have all the elements for a successful dining experience: refined, yet relaxed atmosphere, unpretentious, yet attentive service, great food and great bar to boot." He adds, "on top of that,
we have one of the few places on Long Island where you can eat outdoors and actually get good food and service." His favorite customers are the ones "who trust our judgment to set up food and wine pairings." And what does the future hold? He hopes to open "a second location."

Steven Del Lima, the chef and owner of Wild Fin in Huntington, is one of a handful of Island kitchen commanders who has worked with and under some of the world's greatest chefs. A 1993 graduate of the Culinary Institute of America, he saw service in Manhattan under Hazen Eric Ripert, Daniel Boulud and renowned bread baker Danny Leader. During that period he was the daytime Executive Chef at Grammercy Tavern.
On the Island he was the chef de cuisine under Michael Meehan at Clearwater and Tupelo Honey. He also opened RSVP in Bayville that was cited as the Island's best seafood spot in the 2006 Zagat Survey. Asked what is distinctive about Wild Fin he said, "Attention to detail, freshness of food, creativeness and taking risks with complex flavors." In ten years Mr. Del Lima sees himself "still owning/operating successful restaurants and enjoying my wife and family."

John Peragine started out in the restaurant business at age 10 in his hometown of Patchogue. Now, after earning a degree in Culinary Arts at Johnson & Wales University in Providence, Rhode Island, and stints as an executive chef in New York City, Philadelphia, East Hampton and Providence, he's returned
to the place where he started. To, in his own words, "open a good restaurant in my home town and bring good food to Patchogue." That restaurant is the Pera Bell Food Bar that he owns with his partner Scott Campbell.
Mr. Peragine sharpened his culinary skills at such renowned destination restaurants as The Rainbow Room in New York City and Coco Pazzo in Philadelphia. He also presided over special events like the HBO Premiere Party for the Sopranos (1,800 people) and the private parties on the Billy Joel concert tour.
Mr. Peragine describes Pera Bell as "a great neighborhood restaurant…that can be a spot for a burger and beer for a Yankee game or a four-course meal for a very special occasion. I think (of it) being a place for all people. That's what's going to set us apart."

Eric Rifkin is in the forefront of accomplished chefs who are opening barbecue restaurants all over Long Island. Mr. Rifkin, who believes "You're only as good as your last meal" owns and operates Bobbique, a relatively new hotspot in Patchogue.
Previously he was a kitchen commander at two other Island restaurants including the well-regarded Crazy Dog where he often prepared creative, sophisticated dishes. Presently his emphasis is on authentic, real pit barbecue from his smoker. He buys his pork from the Hunt's Point Terminal and reassures down-home barbecue aficionados that they won't find any nachos or quesadillas on his menu. But they will find over 100 beer selections and hear plenty of Blues music. In the future he wants to own a few more eating places "with an emphasis on barbecue" and share some of his southern inspired fare with "all the chefs and people I've worked with over the years."

Wayne Wadington is the exception. Unlike most of its contemporaries, he didn't go to the Culinary Institute of America, The French Culinary Institute, Johnson & Wales
or any of the other prestigious, high visibility cooking schools.
Although he's the owner-executive chef of La Plage in Wading River, a restaurant that has earned consistent raves from critics and the Zagat Survey (where it received a 27 food rating), Mr. Wadington is self taught. After working the front of the house at Pasta Pasta in Port Jefferson, he heard about a restaurant across from the beach in Wading River. An avid fisherman who loved the water, he took the plunge, bought it and called it La Plage. That was eleven years ago. At the outset he had the good sense to hire Cornelius Gallagher, at the time, one of America's up and coming chefs. Watching, listening and learning from Mr. Gallagher, the Coram native honed his own skills. He began to collect what is now a huge collection of cook books, ate out frequently and talked to other chefs every chance he got. The structure of the kitchen crew at La Plage is also Mr. Wadington's doing. There is no hierarchy, no titles. Everybody is responsible for the final product. Everyone receives the same respect. They all contribute in the selection and matching of ingredients. In the near future, the bar area at La Plage
will be enclosed so it can be available during the winter. And what will Mr. Wadington be doing in ten years? "Looking for people with the same energy I had ten years earlier."

Tom Schaudel is the Dalai Lama of chef-owners. Although at present he is involved with only two restaurants in that capacity, Jedediah's in Jamesport and Coolfish in Syosset, Mr. Schaudel was both chef and owner of such renowned restaurants as Panama Hattie's in Huntington and the Spring Close House in East Hampton as well as a diverse array of other spots like the Downtown Grill in Montauk, 107 Forest Avenue and 107 Ocean Bistro in Locust Valley, Lemongrass and Tease in Roslyn, and 660 West and Maxwell's in Garden City.
It all started for Mr. Schaudel at the Sirloin Steak Pub in Westbury when he was a sixteen year old, $1.50 an hour dishwasher who slowly rose in the ranks as others failed to show up for work or, as he tells it, "I was the only guy left standing. It was a comedy of errors." After the Sirloin Steak Pub, he attended the CIA and was a line chef at the Brookville Country Club.
Mr. Schaudel, who sees the restaurant business as "managed chaos," says tenacity is the greatest attribute for a restaurateur. His hero is Mohammed Ali for that reason. "No matter what happened to him," he recounts, "he always gets back up." Treating his employees well is another Schaudel tenet. Asked what he would like to be doing in ten years, he said, "Open a wine store. I like the grape and it's got to be a little less nutty than the restaurant business."

Joseph Lester, the chef-owner of the Ivy Cottage in Williston Park who is 50 years old, started in the restaurant business as a dish and pot washer when he was 13. At the tender age of 16 he became the prep cook at a Masonic Lodge.
After attending C.W. Post and the Culinary Institute of America, he gained experience in the kitchens of the Waldorf Astoria, Davenport Press in Mineola, Le Petite Marmite in Manhattan, the Piping Rock in Westbury, Walls Wharf in Bayville, New York's Copacabana and as an owner of the Country Pantry in Rockville Centre.
Along the way he was greatly influenced by Eugene Bernard, the brilliant chef at the C.I.A. and Gerard Gillet, the renowned French chef who was the co-owner of Le Petite Marmite.
He opened the Ivy Cottage about nine years ago and it's been a success ever since. In order to maintain the restaurant's admirable consistency, he sticks to an uncomplicated menu, buys fresh fish daily and makes all his own soup, stocks and desserts in addition to doing his own butchering. He enjoys owning his own place after working for some people "that cared
more about the bottom line than about quality." He plans to keep the Ivy Cottage as it is "because it works."
His future plans include the establishment of an extensive take out service, featuring comfort food, called Auntie Em's No Place Like Home.

Bill Holden, the chef and owner of West End Café in Carle Place, grew up in Elmont, Long Island, and upstate New York. It was there that his parents befriended a number of French chefs who lived and worked in an upstate French enclave. One of them, Henri Thong provided Mr. Holden with his first opportunity in the restaurant business: a two year apprenticeship at Manhattan's Carlyle Hotel where he worked at every station in the kitchen. From there he went to the haute cuisine La Caravelle, La Cygne, Le Pyrenees and Tucano, all in New York City. His first Long Island post was at La Marmite in Williston Park where he worked for six and a half years before going to the Piping Rock Inn. After all of this exposure he concluded that the only way to make it in the restaurant business was to have a place of his own. He opened West End Café 15 years ago with the goal of making it a place people patronized seven days a week, not just weekends. He succeeded. Over the years, Mr. Holden's diverse eating experience and extensive reading have led to South American, European and Asian Fusion touches on his menu.
His management philosophy is simple: "lead by example, be a smart businessman but be a human being, too."
His hope for the future revolves around his son currently a student at the Culinary Institute of America, getting experience after graduation and then joining him at the West End Café.

Scott Bradley had been around the culinary block quite a few times when he opened Snaps in Wantagh in 2004. He has a degree in Culinary Arts from New York Institute of Technology, worked in Manhattan at top notchers like Daniel, Aureole, the River Café, Oceana, Park Avenue Café and One If by Land & Two If by Sea and on Long Island as executive chef of Passion Fish, Mireipoix and La Coquille.
At Snaps, he's "taking a little bit of what I've learned throughout the years and customizing it to my personal style of both flavor and presentation is what excites me about cooking and owning a restaurant." His eclectic American menu is designed to satisfy both picky eaters and educated food experts while not burning a hole in their pockets. Yet his favorite customers are the ones "who are willing to take a flavor adventure. Anyone who is enthusiastic about trying something new."

Consistency is the key word for Dino Vlacich, the chef and owner of Mio in Roslyn. Mr. Vlacich, who has 22 years experience in the restaurant business, emphasizes everyday
consistency in the food and service offered to his patrons. He is aware that many eating places can dazzle and sparkle for some meals but his philosophy of quality, care and service aims to deliver on the same level for every meal. To accomplish that he stresses respect toward "all the people involved in the creating and service parts of the restaurant." His favorite customers, the ones he likes to serve the most, are customers with a "good understanding of quality. They appreciate and respect our efforts and in turn make the
experience for customer and personnel enjoyable." When asked where he sees himself in ten years he promptly replied, "creating, owning and managing three restaurants."