Akbar
GARDEN CITY 2 South Street
www.theakbar.com
516-357-8300
Lunch Daily
12:00 - 3:00
Dinner
5:30 - 10:00
Weekends
5:30 - 11:00
AMEX VISA MC DINERS CLUB
OUTDOOR DINING; BANQUET FACILITIES ON PREMISES; LUNCHEON BUFFET; PRIVATE PARTIES; TAKE OUT;HANDICAP ACCESSIBLE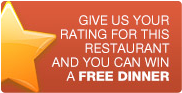 Akbar's genuine Indian character and charm, is appropriately named after the Grand Mogul Emperor famous for unparalleled splendor of his hospitality, fabulous feasts and elegance of living. The beautiful dining room was recently updated and now opens into a stunning bar room.  Dramatic high ceilings, brass chandeliers, comfortable banquettes, plush carpeting, elaborate Indian carvings, fresh flowers and the romantic glow of candlelight complete the decor. Huge lavish catering rooms and an outdoor dining space are also available. 

Akbar was opened by A.N. Malhotra who was instrumental in organizing the Indian Pavilion at the 1965 World's Fair. Mr. Malhotra has received many awards and praise for his high standards of authentic Indian food. Akbar has been led by his daughter, Meena Chopra, for more than twenty years alongside Sandeep Soni (Director of Banquets and Catering) and Ramit, her son who recently joined the team.

The art of Northern Indian cuisine is in the preparation, a balance of herbs and spices where one ingredient never dominates. Meat and poultry dishes are prepared in the Tandoor, an Indian clay oven, which gives a charcoal flavor blended with the smoky fragrance of clay. Signature dishes include Chicken Malai Kabob, sizzling and smothered with onions; Prawn Aftabi, grilled tiger shrimp; Lamb Chops marinated and grilled; and at least ten vegetarian dishes as well as dosas, a thin rice crepe. The food here is refined, expertly prepared, full of fabulous exotic Indian flavors but not spicy, unless you ask for it that way. A list of cocktails and international wines are reasonably priced.

"Authentic Indian cuisine" ...that is what you can expect from this "upscale" "perennial favorite"...Zagat Survey.
SAMPLE MENU