Steves Piccola Bussola
41 Jackson Ave SYOSSET WESTBURY 649 Old Country Rd 516-333-1335
stevespiccolabussola.com
516-364-8383
Lunch
Mon - Fri 12 - 3
Dinner
Mon - Thur 3 - 10
Fri & Sat  3 - 11
Sunday 1 - 9
AMEX VISA MC DISCOVER
LUNCH & DINNER SPECIALS; WINE DINNERS; PRIVATE PARTY ROOM; ON & OFF PREMISE CATERING; TAKE OUT; HANDICAP ACCESSIBLE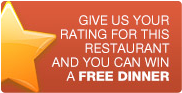 Steve's Piccola Bussola's high rating of 24 for food in Zagat with comments like "fabulous family style" and "joy in every bite" is accompanied by being voted as one
of America's 1,000 Top Italian Restaurants.   
With a second location in Syosset, Steve's Piccola Bussola continues a 32-year tradition of fresh, family style dining.  The father and son team of Steve and Joseph Vaccaro partnered with Rocco Gojcaj to open the second restaurant.  Steve Jr. manages the dining room.  Loyal, steady customers include third and fourth generation diners who remember Steve from La Stella in Forest Hills.
A stunning granite and wood bar complements stonework in the airy main dining room.  Beige and brown colors are enriched with framed paintings, and a decorative wine rack displays selections from an international wine list.  A skylit private party room features wall sconces, another wine rack and intriguing sculpture.
The restaurant's family tradition continues with the menu.  Palermo-born Steve learned to cook from his mother, offering generous portions of the same high-quality traditional Southern Italian food he grew up eating.  Steve's even does their own butchering to ensure the most tender cuts of veal, including house specialty osso buco with risotto.  Other customer favorites include Gnocchi Bolognese, Veal Chop Oreganata and Pappardelle Principessa.  The kitchen is expert in their use of Sicilian staples like imported extra virgin olive oil, olives, capers, garlic and, of course, tomatoes.  They make their own sauces from scratch and bring in fresh fish straight from Hunt's Point market, ready to be prepared to your liking.
SAMPLE MENU