Absolutely Mario
FARMINGDALE 10 Allen Blvd
www.absolutelymario.com
631-694-7416
Lunch
Tue - Fri  12 - 3
Dinner
Tue - Thur  4 - 10
Fri & Sat  2 - 11
Sunday  2 - 9
All Major Cards
DAILY SPECIALS; WINE DINNERS; PRIVATE PARTY ROOM; ON & OFF PREMISE CATERING; TAKE OUT; HANDICAP ACCESSIBLE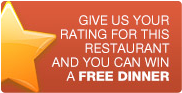 Mario Garcia was always very accommodating to the customers who frequented the Italian restaurants he worked in for 18 years.  No matter what they requested, his answer was "absolutely."  When he realized his dream and opened his own restaurant, naturally, the name had to be Absolutely Mario.
Now, ten years later, he follows that same philosophy in running his restaurant with his wife, Consuelo.  Zagat calls him a "charming chef-owner, always on hand making you feel like family."  The New York Times says it's the "warmth and spirit" of Mario that sets his restaurant apart.  The atmosphere is friendly and relaxing and Mario and Consuelo greet customers in their warm and gracious way.  The comfortable dining room is decorated with lots of wood and boasts a fireplace, colorful leaded glass accents and candles on the cloth covered tables.  The couple is delighted that their son, Alex, an engineering student, has joined them on weekends, handling the business end.
Regional Italian specialties fill the menu.  Absolutely Veal, a hearty dish of stuffed veal with prosciutto and cheese, is their signature.  The New York Times called the Warm Spinach Salad, "a knock-out," and the Absolutely Seafood Salad a "showstopper."  The wine list has reasonably priced selections and decadent desserts include raspberry crumb cheesecake, cannolis, tiramisu
and cold zabaglione over fresh berries.
Mario has a love and passion for his restaurant which comes across when he talks with his customers.  Is he glad his dream finally came true?  ABSOLUTELY!
SAMPLE MENU