Bar Frites
Wheatley Plaza 400 Wheatley Rd GREENVALE
barfrites.com
516-484-7500
Lunch
Mon - Fri 12:00 - 5:00
Dinner
Mon - Sat 5:00 - 11:00
Sun 2:30 - 10:00
Brunch
Sat & Sun 10 - 4:00
AMEX VISA MC DINERS CLUB
PRIVATE PARTIES; HANDICAP ACCESSIBLE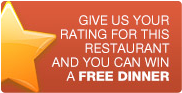 Bar Frites, a lively bistro, captures a little bit of Paris in the Wheatley Plaza.  Reminiscent of a genuine European café, it's decorated with artfully tiled floors and walls, café tables, and has a breezy, relaxed atmosphere.  It is the latest addition to Gillis and George Poll's repertoire of restaurants.  
During the day the spacious room is bright and airy, with French doors that open to a side patio for al fresco dining.  It is abuzz with midday diners catching an easy lunch or brunch.  Bar Frites wouldn't be an authentic French brasserie without traditional, rich dishes and delicacies. Some of their menu highlights include heavenly French onion soup w/ sweet vidalia onions, tuna tartar on a bed of avocado, succulent LI duck, and all varieties of fresh fish and shellfish.  They also feature delicious desserts – namely the Classic Creme Brulee and divine Profiteroles. Executive Chef Stephan Leed maintains a meticulous kitchen with high standards, while General Manager Cliff Dragonetti oversees a tight operation on the front end, employing a top-notch staff and paying attention to every detail.
At night the fast-paced bar is filled with energy, luring a sophisticated bar crowd.  Whatever time of day, Bar Frites is a cool, chic dining destination offering the best of French bistro fare.
Visit their other restaurants, Bryant & Cooper Steak House 516-627-7270, and the new Hendrick's Tavern, 516-621-1200, Roslyn; Cipollini Trattoria, 516-627-7172, and Toku Modern Asian, 516-627-TOKU, both located in the Americana Manhasset shopping center; and Majors Steak Houses, East Meadow, 516-794-6600.
SAMPLE MENU