Anchor Down
1960 Bayberry Avenue (Open Bay Marina) MERRICK
AnchorDownNY.com
516-544-4334
Open Seven Days
Monday  5 - 9
 Tues - Thur  12pm - 10
Fri & Sat  12pm - 11
Sunday  12pm - 9
All Major Cards
OUTDOOR DINING; LIVE MUSIC; SPECIALS WINE DINNERS; PRIVATE PARTIES; CATERING; TAKE OUT; HANDICAP ACCESSIBLE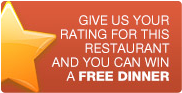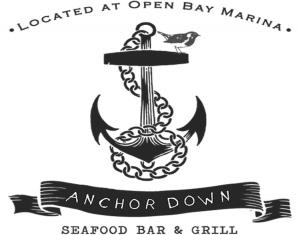 Owner Stephen Rosenbluth, who is also the executive chef, brings more than twenty years of experience in the hospitality industry.  He was in charge of highly acclaimed restaurants in Manhattan, some here on Long Island, and also spent many summers working as a Montauk fisherman.  Stephen combined his passion for fishing and cooking when he opened his American seafood restaurant.

Blue and white colors make up the two cozy dining rooms where you feel like you're on a boat.  Nautical themed artifacts are displayed throughout.  Comfortable banquette seating and new wicker bar chairs are in the bar room.  The other dining room has a fireplace and there are many skylights in both rooms.  Diners enjoy tiki cocktails during late night happy hour when the juke box plays familiar tunes.  The outdoor patio is perfect for your staycation...it even has real palm trees.

Stephen is a pro when it comes to preparing fish.  We loved the Jerk Spiced Salmon Filet with hearts of palm salad and mango chutney; crispy Cod Tacos with avocado and pickled onions, the best we ever had; and the signature lobster roll overstuffed with tender lobster meat.  Desserts are made in house and luscious endings to you dinner.  They also offer Certified Angus steaks for the meat-lovers.  There's a blackboard of specials which changes seasonally with whatever is freshest in the market.

Here's what people are saying about Anchor Down: "Everything is simply scrumptious!" "We were treated as family...the staff was so helpful and attentive." "What a nice find!" "Presentation was beautiful and crab cakes were perfect!" Newsday called it a "culinary pearl." Trip Advisor called it "second best seafood restaurant" on Long Island.

Their loyal customers always return to Anchor Down for the incredibly fresh local seafood and fish, expertly prepared.  Don't let this boat sail away without you!  
Visit Stephen's new waterfront restaurant, Cardoon Mediterranean, 2479 Adler Court, Seaford, 516-785-2390.         
SAMPLE MENU